FSGS Patient Marvels Dandelion Is A Medicine
2018-07-31 02:36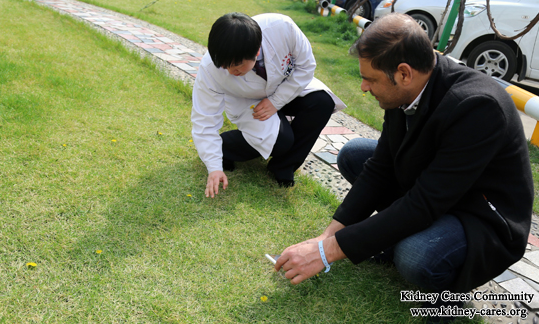 The doctor is introducing the Chinese medicine efficacy of dandelion to Feiqi, a FSGS patient.
"In our country, the green leaves can be fried or boiled to eat." The doctor in Beijing Tongshantang Hospital of Traditional Chinese Medicine introduce dandalion to Feiqi from Afghanistan.
"Dandelion can be dried and then drink it with water. Also we can fry the leaves to eat." Doctor Lv Haiyan introduced dandelion in China can be taken as Chinese medicines which has the function of clearing away heat and toxic materials. When hearing this, Feiqi is vary surprized that he even does not know dandelion is a medicine. He said when he came back home, he would tell his family members that dandelion can be drunk with water.
Feiqi is a dentist, has 3 cute children and one loved wife. Three years ago, in a regular physical examination, he was told there was something wrong with his kidneys. The result was he suffered from FSGS (Focal Segmental Glomerulonephritis).
During the past three years, he went to many hospitals but his swelling and proteinuria were still there. Feiqi said he was very upset. His family members were very worried about him.
He knew a Chinese friend when he was in Afghanistan. With the help of this friend, he decided to come to China for Chinese medicine treatments. Facts prove that my choice is correct. He patted his legs without swelling.
21th March each year is the Afghanistan's independence day. On that day, natives will climb mountain to celebrate this activity. Feiqi should have thought he could not spend this activity with his family members this year so he had some disappointment.
Our doctor did not want him to have regrets. In order to give him a surprise, our doctors arranged several doctors and nurses to accompany him to climb mountain in beijing. He was very excited.
As long as you choose the right treatment, your condition can be controlled. The treatment in our hospital is mainly Chinese medicine treatment including Micro-Chinese Medicine Osmotherapy, Medicated Bath, Medicated Foot Bath, Mai Kang Mixture, Moxibustion Therapy and Steaming Therapy, etc. If you want to learn detailed information, you can leave a message below or consult our online doctor directly.