Why Do Dialysis Patients Suffer From Cardiovascular Disease
2015-09-22 08:31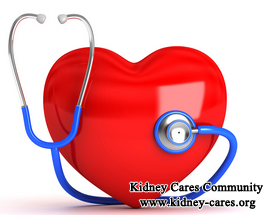 Complications are the main reasons which affect dialysis patients' lifespan and life quality, especially cardiovascular disease. Cardiovascular disease is one of the serious complications in dialysis. Statistics show that cardiovascular disease causing death accounts for 45% in uremia patients. Why do dialysis patients experience cardiovascular disease?
The factors for cardiovascular diseases include traditional cardiovascular disease and non-traditional cardiovascular disease. Factors for Traditional cardiovascular disease include age, sex, tobacco, obesity, high blood pressure, diabetes and family history of cardiovascular disease. For example, researches show that age is the leading cause of death in dialysis patients with cardiovascular disease.
In kidney disease, the risk factors for cardiovascular disease include chronic inflammation, angiosteosis and oxidative stress. Besides, in uremia, proteinuria, malnutrition, anemia, hypercoagulability, abnormal lipid metabolism, disorder of calcium-phosphate metabolism and an increase in volume load all can cause cardiovascular diseases.
In uremia, the accumulation of metabolic wastes and toxins can cause a series of changes of pathophysiology such as abnormal glucose metabolism, anemia, calcium-phosphorus metabolic disorder. These factors all can result in cardiovascular disease.
Therefore, dialysis patients should adjust their diet, control their blood pressure, control blood sugar, alleviate anemia and reduce blood lipid to reduce their risk of cardiovascular disease.
More important, dialysis patients should seek for effective treatment to deal with their kidney disease. As long as sufficient blood and oxygen is delivered to the body, cardiovascular disease can be managed well. Shijiazhuang Kidney Disease Hospital brings patients a new hope to treat kidney disease. This therapy is called Micro-Chinese Medicine Osmotherapy. This is external application. Patients just need to lie on the bed to take this treatment. This treatment avoids the side effects of dialysis. With the help of osmosis device, the active ingredients can come to kidney lesion directly. Through expanding blood vessels, preventing inflammation and coagulation, degrading extracellular matrix, providing necessary nutrients, damaged kidney tissues can be repaired. Kidney function can also be improved gradually.
Are you suffering from heart failure? Please email to kidneycares@hotmail.com. We will reply you as soon as possible.