Diabetic Nephropathy: Get rid of Insulin Injection with Treatment
2016-07-03 03:36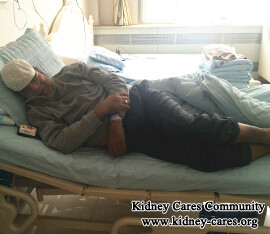 Insulin injection is one of the common used treatment to lower blood glucose level for Diabetic Nephropathy patients. But for Mohammad Nurun Nabi, a 67 years old man from Bangladesh, he got rid of insulin infection after a period of treatment in Shijiazhuang Kidney Disease. And his kidney condition got great improvement as well. What treatment helps him achieve such a good therapeutic effect? Read on, you will get the answer.
In our hospital, he did a series of specific tests to have a thorough examination of his kidney conditions. According to his test result, our renal experts made a systemic treatment, which is mainly consisted of Chinese medicine. Because there are a lot of waste products in the blood, we use Toxin-Removing Treatment first to help set up a good blood environment.
As its name implies, Toxin-Removing Treatment is to remove toxins from body, which does not only clear the accumulated waste products in the blood, but also draw toxins out of the renal inherent cells. Besides, it can dilate blood vessels to stabilize your blood pressure, and it can also lower blood cholesterol level. Moreover, it can speed up blood circulation and remove stasis to increase blood flow into kidneys. In such a good blood environment, once you take any treatment, active ingredients of medications can be transported into the damaged kidneys with blood flow to help damaged kidneys quickly heal themselves. And with the improvement of blood condition, your symptoms and complications will get relieved.
Now let's have a look at Mohammad's therapeutic effect in Shijiazhuang Kidney Disease Hospital.
-Urine glucose and proteinuria controlled
When he was just hospitalized in our hospital, his urine glucose was 3+ and proteinuria was 3+.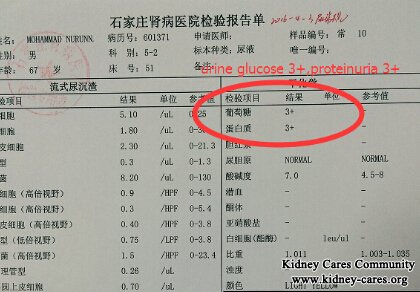 After one and half month's treatment in our hospital, his urine glucose was- and proteinuria was 2+.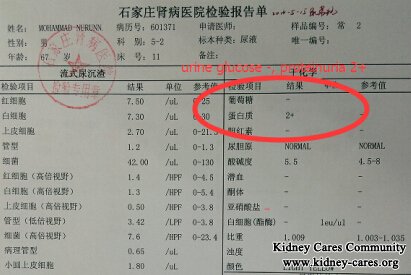 With treatment going on, his blood glucose was controlled so well that he stopped insulin injection. Look at his blood glucose level below.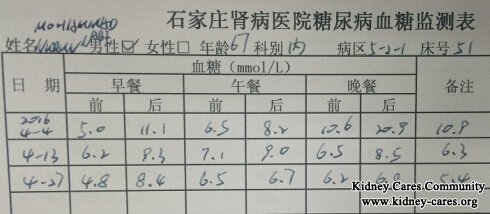 -Serum creatinine level reduced.
As to his serum creatinine level, it was as high as 383μmol/L when he just came to our hospital.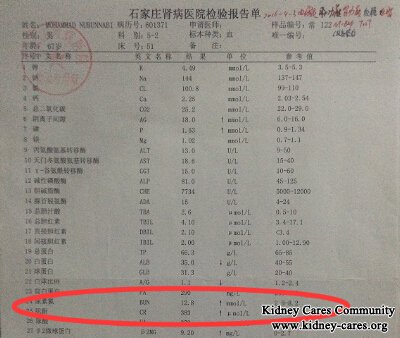 After half month's treatment, his serum creatinine level came down to 282 umol/L.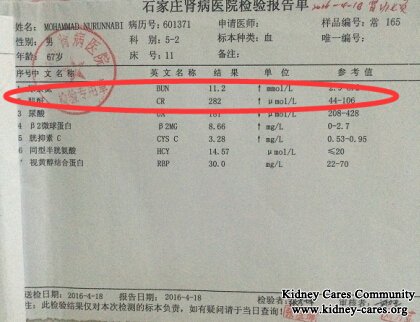 However, because of bad weather, he got lung infection and fever, triggering asthma. This affected his kidney function, so his creatinine level increased again. When he went hospital for home, it was as high as 485 umol/L.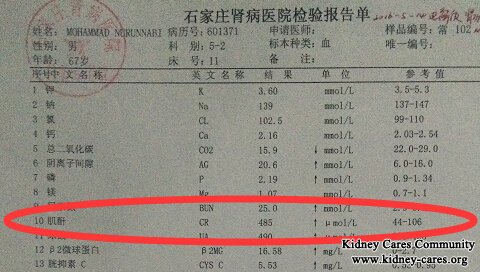 Though Mohammad was a little unsatisfied with this result, but he said he would keep on our treatment strictly at home. Therefore, miracle occurs. Look at the blood test he did in his own country. His creatinine level was lowered to 199.39 umol/L now.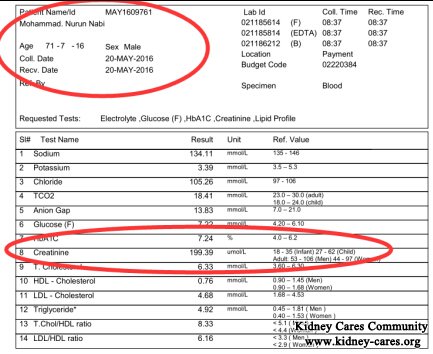 We do believe with treatment going on, his therapeutic effect will be better and better. If you have the similar case as Mohammad and want to know more information about our treatment, please leave a message below or send emails to kidneycares@hotmail.com. Later our nephrologist will contact you to give you personalized guidance.