Will Years of Diabetes Cause Swelling in Lower Limbs
2014-08-20 06:15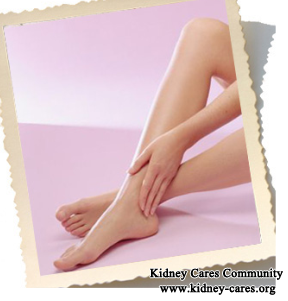 Diabetes is marked by high blood sugar which is not fatal in short-term. Controlling blood sugar level in normal range is very important, because persistent high blood sugar will damage other organs, causing many symptoms. Well then, will years of Diabetes cause swelling in lower limbs? Why some diabetics complain swollen feet and legs?
Diabetes is not deadly, but years of uncontrolled Diabetes will threaten other organs. The most commonly seen complications of Diabetes are Diabetic Nephropathy, Diabetic Foot, Diabetic Retinopathy and Diabetic Neuropathy, all of which are life-threatening. Diabetic Nephropathy refers to kidney problem caused by years of Diabetes and it is more likely to cause swelling in lower limbs.
Kidney is the organ that takes charge of filtering blood, producing urine, secreting some hormone and maintaining electrolyte balance. When blood sugar level is higher than the normal range, kidneys will work very hardly to filter blood, so as to remove excess glucose out of the body through urine. Years of uncontrolled Diabetes increase burden on kidney, which may lead to kidney damages. Diabetic Nephropathy is caused when kidney is damaged due to years of Diabetes. For this reason, keeping blood sugar in normal range is very important for diabetics to avoid kidney problem.
Swelling refers to fluid retention. It appears easily in body parts with loose tissues like eyelid, face, ankle, feet and testis in male. For people with Diabetic Nephropathy, their kidneys have been damaged and damaged kidneys can not maintain water balance, so swelling appears.
Swelling in lower limbs is just one of the symptoms of Diabetic Nephropathy(6 symptoms of Diabetic Nephropathy). For diabetics, if they are experiencing swelling and wonder if it is caused by kidney problem, they can go to hospital for urine test and blood urine which will help to have an accurate diagnosis. If unfortunately yes, effective treatment should be given as soon as possible, so as to avoid dialysis and kidney transplant.