Health Benefits Of Chayote On Diabetic Nephropathy Patients
2014-06-17 01:37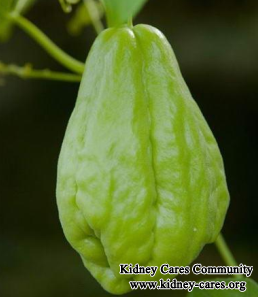 Diabetic Nephropathy is damage to your kidneys caused by kidneys. We know diet plays an important role in the treatment of the disease. A proper diet can delay the progression of diabetic nephropathy. Chayote is very nutritious and it has many health benefits to kidney disease patients.
1. Lower blood pressure
High blood pressure is a common symptom in kidney disease. Keeping it under control is able to prevent further kidney damage. Chayote contains potassium, the mineral which helps lower blood pressure levels. However, if your lab tests show you have high potassium level in your blood, you should not consume too much chayote. For the reason why you cannot eat high potassium food, you can click Why Should You Not Eat Bananas If You Have A Kidney Damage.
2. Prevent legs cramps
Diabetic nephropathy patients usually complain of leg cramps and they cannot stand the pain. Chayote contains magnesium. Despite it cannot solve the problem from the root, it can still help prevent leg cramps to a certain degree.
3. Prevent constipation
Kidney disease patients often have a limitation on fluid intake and deficient fiber consumption. In this condition, it makes people experience irritable bowel movement. Chayote contains dietary fiber which softens the stools by drawing water into them and making them smooth. Thus, constipation can be prevented.
4. Alleviate anemia
Deficient red blood cell production leads to anemia. Chayote is filled with vitamin B2 and iron which are required for the production of red blood cells and thus increase hemoglobin levels. Also folate in chayote is important for the creation and maturation of red blood cells and vitamin K is necessary for anemia patients.
Additionally, chayote has other benefits:
Boost immune system
Protect you from fatigue and depression
Good for the hearth
Give you energy
Generally speaking, chayote can be a kidney-friendly diet and it is good for diabetic nephropathy patients.