Why Should You Not Eat Bananas If You Have A Kidney Failure
2014-06-09 07:25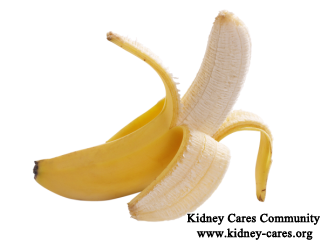 If you have kidney failure, why should you avoid bananas? A person is more likely to have high potassium level in the body if the kidneys do not work effectively. For this reason, bananas should not be consumed by kidney failure patients.
Why kidney failure patients should limit potassium intake?
Limiting potassium intake will help them to reduce the risk of fatigue, cramping, confusion, nerve damage, digestive problems, stomach pain, nausea and vomiting as well as muscle weakness. For kidney failure patients, it is important to pay attention to the potassium intake because high concentrations of potassium can cause metabolic acidosis, irregular heartbeat and muscle weakness. This can also stop the heart from beating resulting in death. Banana is a rich source of potassium content, so it should not be eaten by kidney failure patients. However, not all kidney failure sufferers will have high potassium levels. Therefore, it is crucial for you to visit your doctor to get your blood potassium level.
What is a kidney failure diet?
Kidney disease diet should be low fat, low protein and low potassium. This is because the damaged kidneys cannot remove excessive electrolytes and water from their blood effectively and timely. Thus, proper diet is helpful for reducing kidney burdens and also slowing down the rate of kidney function decline.
What foods can be eaten and what cannot be eaten by kidney failure patients?
Low potassium foods include chicken, eggs, grapes, onions, green peas, berries, raspberries, peaches and asparagus. However, foods like salmon, lobster, tomatoes, potatoes, beans, beet, dried fruits and avocados are all high in potassium. Kidney failure patients should stay away from these foods.
Apart from avoid foods rich in potassium completely, the patients should choose alternative way to repair damaged kidneys and improve kidney function. If the kidney function is improved, the excessive potassium will be removed effectively than before. As for how to improve kidney function, you can consult our online renal experts.