High Creatinine Level Is Reduced to 647 From 1436
2016-06-15 03:21
When your serum creatinine level reaches to 1436, you must have been suggested to start dialysis and also, you might be told dialysis and kidney transplant are the last two options for you. However, in Shijiazhuang Kidney Disease Hospital, you have alternative.
Creatinine actually is just one of the wastes produced in our body. Together with other toxins, they are removed from our body by kidneys, so when kidneys are damaged and fail to function well, wastes like creatinine will build up in blood. That is why kidney disease patients have elevated serum creatinine level.
Dialysis is suggested when serum creatinine level becomes very high, because it can clear wastes away from our blood in several hours. Dialysis is the process to filter blood outside the body with a machine and then transfuse clean blood back to body again through a tube. It is not a treatment, but a kidney replacement method.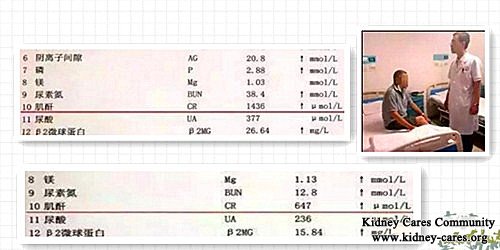 In Shijiazhuang Kidney Disease Hospital, dialysis is also used in some cases, but it is not a must for all the high creatinine level patients. Once we treated patients whose serum creatinine level is as high as 1436 when he just came to our hospital. With such a high creatinine level, he suffered lots of discomforts like nausea, tiredness, skin itching and so on. He is reluctant to start dialysis, as he knows dialysis is life-long. After hospitalized here, he is treated with Toxin-Removing Treatment which is a hospital treatment based on Chinese medicine therapies. This treatment not only helps him cleanse blood, but also promote his blood circulation, improve his kidney function and strengthen his immune system. After a period of treatment, test reports show his serum creatinine level is reduced to 647 successfully. No dialysis is needed for him.
As a patient, we need to know high serum creatinine level is just a result of impaired kidney function and if we want to get this level down, we need to strengthen our kidneys, or find another way to help cleanse our body. Dialysis is just an advanced medical method to cleanse blood, but not the only option.