How Much Creatinine Level Requires Dialysis
2016-01-31 03:35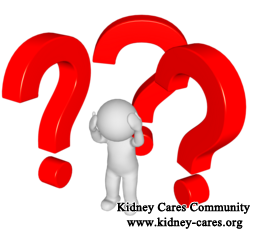 When creatinine level is high, you are always recommended by your doctor to begin dialysis. Well then, how much creatinine level requires dialysis?
Creatinine level alone cannot determine dialysis. The exact indicator for dialysis is creatinine clearance. The wastes in the urine and in the blood are estimated by measuring the creatinine. By comparing the blood and urine level of this substance, the doctor know how well the kidneys are working. Usually when the creatinine clearance falls to 10-12cc/minute, you may begin dialysis. There are many factors that need to be taken into consideration. If a patient is experiencing a major inability to rid the body of excess water, or is complaining of problems with the heart, lungs, or stomach, or difficulties with taste or sensation in legs, dialysis may be started even though the creatinine clearance has not fallen to the 10-12cc/minute level.
Dialysis is the common and quick treatment for discharging wastes from your blood. However, it does not repair your injured kidneys and improve your kidney function. Once you start it, you need to take it for your rest of life. Besides, dialysis also leads to many side effects like low blood pressure, muscle cramps, infection and anemia, etc. They worsen your condition and put your condition into kidney failure. In this regard, dialysis is not the perfect treatment for kidney disease.
In our hospital-Shijiazhuang Kidney Disease Hospital, we recommend you Blood Pollution Therapy for lowering down your high creatinine level. It treats your kidney disease from the root by repairing injured kidney tissues and improving your renal function and thereby high creatinine level can be reduced radically. As long as your kidney function is improved, dialysis is possible to be avoided and your discomforts like nausea, vomiting, poor appetite, itchy skin can all be alleviated from the root.
Creatinine level is just one indicator for dialysis. It is not the only measurement. If you want to know more information, you can leave a message below.
Our Treatment Effect
High creatinine level is dangerous to a kidney patient
Move the mouse to enlarge the picture
If you also want to reduce your high creatinine level, please look at this patient's report. When he was just hospitalized in our hospital on Dec 11, 2018,
His creatinine:1028umol/L,
urea: 39.7mmol/L
UA : 513umol/L
After a period of our treatment,
his creatinine:331umol/L, urea:16.1mmol/L
UA :325umol/L on Jan 5, 2019.
His condition was getting better and better. You can also get better.
For a CKD patient, you can choose Chinese medicine treatments to control your condition. your creatinine level can be reduced radically, symptoms can be alleviated and more importantly, your renal function will be improved. In this way, you can stay away from end stage kidney disease and avoid dialysis.