How To Reduce High Creatinine Level In Kidney Patients
2015-11-29 08:13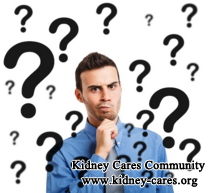 High creatinine level is an indicator of chronic kidney disease (CKD). With kidney disease, your kidney function decreases and then your creatinine level increases. Can high creatinine level be lowered down?
1. How does high creatinine level connect with kidney disease?
Creatinine is a break down product of creatine phosphate in muscle, and is usually produced at a fairly constant range in the body when the muscle mass is constant. As it is removed by kidneys after filtration. Thus, Higher serum creatinine levels indicate kidney damage or failure. Whatever which kind of kidney disease you are suffering from, they can cause decline of kidney function and elevated creatinine level.
2. How to reduce high creatinine level in kidney patients?
Diet modification
Renal diets focus on controlling protein, potassium, phosphorus, sodium and liquids. Most renal diets require you to monitor and limit your protein intake. When your kidneys are not working well, your potassium and phosphorus levels can become too high. This can be serious and threaten your life. Under such a condition, you are required to limit potassium and phosphorus intake. Potassium is found in many foods like broccoli, bananas, potatoes, oranges, leaf green vegetables. Phosphorus high foods include sardines, cola, nuts, cheese, liver, peanut butter and beer. You may also be asked to avoid eggs and dairy products. Besides, avoid foods with added salt, such as nuts, bacon, pickles and luncheon meats.
Micro-Chinese Medicine Osmotherapy and stem cell therapy
Diet modification only lowers high creatinine level temporarily. To lower high creatinine level radically, you need to repair your injured kidneys and recover your kidney function. Dysfunction of kidneys is mainly due to the damage of kidney intrinsic cells. There are five kinds of kidney intrinsic cells. Damage to any kind of kidney intrinsic cells can cause impaired kidney function.
Micro-Chinese Medicine Osmotherapy and Stem Cell Therapy in our hospital-Shijiazhuang Kidney Disease Hospital are used together to improve the general condition of the patients, block the further damage to the kidneys so as to protect the normal cells in the kidneys, repair and recover part of the damaged but reversible cells, generate new renal intrinsic cells to replace the dead ones and rebuild normal kidney structure. In this way, kidney function can be improved greatly. Thus, high creatinine level will be lowered effectively.
If you have any question, you can leave us a message below or send an email to kidneycares@hotmail.com. We are glad to help you.