Can Sauna or Steam Bath Help Reduce Creatinine
2014-12-31 16:51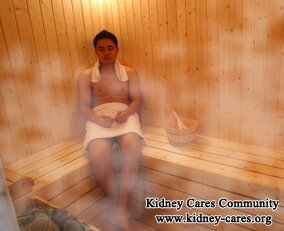 When creatinine level is high, people look for different ways to lower it. Besides medicines, you can try some external therapies. External therapies help oral medicine to be used to its fullest potential. Steam therapy is a kind of TCM treatment. Can sauna or steam bath help reduce creatinine?
Steam bath has many health benefits for kidney patients
-Steam therapy is to expose your body into medicated steam. In certain temperature, your skin pores open and then sweat comes out. With sweat, waste products such as urea and uric acids can be discharged out of the body. This can reduce the workload of kidneys and protect your kidneys from being damaged further.
-The active ingredients of medicine can also go into your body through pores and help you control symptoms, such as skin itch.
-This therapy can dilate blood vessels and speed up blood circulation so as to remove stasis and increase blood flow into kidneys. When blood circulation is improved, oral medicine can go to the nidus quickly.
-Oral medicine takes effect after digestion. During digestion, medicine may stimulate spleen and stomach so as to affect their normal function. Steam bath is to make use of skin to treat disease so as to avoid the stimulation. If you have a poor spleen and stomach, steam bath may be a good choice for you.
All in all, steam bath is good for kidney recovery. When kidney function improves, creatinine level comes down.
Adjunctive treatment for kidney patients
In Shijiazhuang Kidney Disease Hospital, there are also many therapies to help you, such as Micro-Chinese Medicine Osmotherapy, Medicated Full Bath, Medicated Foot Bath, Circle Therapy, Enema Therapy, Acupuncture and Moxibustion. They can also improve blood circulation, detoxify the blood and supplement essential nutrients to help kidney self-healing. To achieve a better curative effect, we often use them together.
If you are interested in our treatment, please feel free to contact online doctor or leave a message below.