Is There Any Treatment for Getting Normal Creatinine Value
2014-12-30 11:50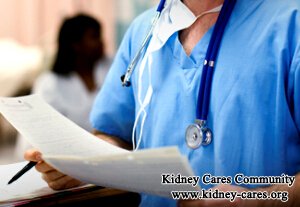 As long as diagnosed with kidney disease, patients keep a close attention to their creatinine level, because increased creatinine level means their kidney disease is worsening. Is there any treatment for getting normal creatinine level?
Your creatinine level becomes normal when your kidney function is more than 50%. Therefore, what we should do now is to repair the damaged kidneys and improve kidney function. In Traditional Chinese Medicine (TCM), there are many therapies for you.
-Medicated Bath
Though your kidneys are unable to remove the waste products and toxins from your body, there are other detoxification organs. The largest one is skin. Medicated bath is to make use of skin to cleanse the blood so as to reduce the workload of kidneys and protect your kidneys from being damaged. This kind of therapy can also dilate blood vessels and removes stasis to improve blood circulation, which is good for kidney recovery.
-Enema Therapy
This therapy is to infiltrate the medicine into the intestinal tract, which helps your body to remove waste products from the intestinal tract. Intestinal tract is associated with kidney. With the recovery of intestinal tract, your kidney function will be improved. And then creatinine can be passed out of the body with urine.
-Circle Therapy
This therapy is to draw circles on certain acupoints with herbs. This can draw out toxins from your body as well. Besides, it can supplement the essential nutrients the kidney needs to recover and promote the function of kidneys.
-Micro-Chinese Medicine Osmotherapy
This therapy has been used for many years in Shijiazhuang Kidney Disease Hospital. It can decompose immune complexes in the kidneys to inhibit kidney inflammation. It can also dilate blood vessels and block blood clotting as well as stop kidney fibrosis.
In order to achieve a better curative effective, the above therapies are often used together. After a period of treatment, your creatinine level comes down. But the precondition is that your kidneys are not severely damaged. For more information, please contact online doctor.