How Can I Decrease the Swelling in the Fifth Stage of Renal Failure
2015-02-14 09:23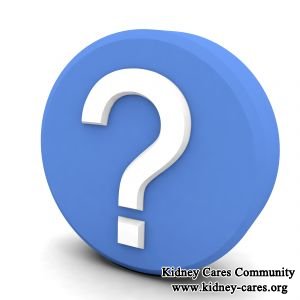 In fifth stage of renal failure, your kidneys can not remove waste products and excess water from the blood timely and effectively so that you may have swelling and some other clinical manifestation. How can I decrease the swelling in the fifth stage of renal failure?
Generally speaking, dialysis is needed for ESRD patients to rid the body of fluid and waste products. But dialysis can only relieve swelling temporarily. Between dialysis sessions, fluid builds up in your body again. That is to say, you have to take advantage of dialysis in the remaining years. Long-term dialysis brings you many complications, such as skin itch, nausea, vomit, muscle cramp, heart disease, etc. If you do not want to do dialysis, the following treatment can help you decrease the swelling.
Diuretics
Diuretics are also known as water pills, which can help your body to discharge fluid so as to alleviate swelling and lower blood pressure. And this kind of medicine has many types, such as thiazide diuretic, loop diuretics, potassium sparing diuretic, etc. You should choose the suitable one according to your medical condition. And you should also pay attention to their side effects.
Medicated Bath
Medicated Bath is a kind of Traditional Chinese Medicine treatment. Both medicated full bath and medicated foot bath can help you sweat a lot. Perspiration can also help your body remove water. With sweat, some of the accumulated waste products can be taken away from your body so as to reduce their damage to your body. Besides, this therapy can dilate blood vessels and speed up blood circulation to improve blood circulation, which helps your kidney self-healing.
Enema Therapy
Enema therapy is also a common used therapy for kidney failure patients in Shijiazhuang Kidney Disease Hospital. This therapy can increase urine output by improving the function of intestinal tract so as to decrease swelling.
How can I decrease the swelling in the fifth stage of renal failure? The fundamental way is to repair the damaged kidneys and improve kidneys. Though your kidneys have been severely damaged, it is possible for you to restore some function with a systemic treatment. A systemic treatment includes Micro-Chinese Medicine Osmotherapy, Medicated Bath, Mai Kang Mixture and decoction. If you are interested in our treatment, please contact online doctor or leave a message below.
Our Treatment Effect
High creatinine level is dangerous to a kidney patient
Move the mouse to enlarge the picture
If you also want to reduce your high creatinine level, please look at this patient's report. When he was just hospitalized in our hospital on Dec 11, 2018,
His creatinine:1028umol/L,
urea: 39.7mmol/L
UA : 513umol/L
After a period of our treatment,
his creatinine:331umol/L, urea:16.1mmol/L
UA :325umol/L on Jan 5, 2019.
His condition was getting better and better. You can also get better.
For a CKD patient, you can choose Chinese medicine treatments to control your condition. your creatinine level can be reduced radically, symptoms can be alleviated and more importantly, your renal function will be improved. In this way, you can stay away from end stage kidney disease and avoid dialysis.