Foamy Urine From CKD Is Alleviated Effectively By Our Toxin-Removing Treatment
2016-06-14 03:29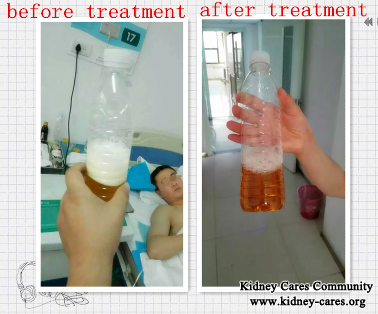 "Let me see that"! Mr Ma almost jumped out of the bed when seeing bubbles in his urine reduces. Foamy urine has bothered him for many years. Now he is very happy for the treatment in our hospital-Shijiazhuang Kidney Disease Hospital.
You may want to know what treatments he take. The treatment he takes in our hospital is called Toxin-Removing Treatment. As its name suggests, this therapy is to discharge toxins from the body and play the function of purifying blood. In this way, a clean blood environment will be provided. And then it is good for repairing kidney damage and improving renal function.
The medicines used in Toxin-Removing Treatment are mainly Chinese Medicines. They are different from Traditional Chinese Medicine (TCM) but an innovation of TCM. For example, we create Medicated Foot Bath, Medicated Bath, Moxibustion Therapy and Oral Chinese Medicine, etc. According to your specific illness condition, proper dosage and Chinese medicines will be given to you. All the medicines come from nature so you do not need to worry about its side effects.
Medicated Bath and Mediated Foot Bath can expand blood vessels and improve blood circulation so as to discharge toxins and wastes from the body. This contributes to alleviating symptoms like itchy skin, nausea, vomiting and poor appetite. Also Chinese medicines can correct your immune system and enhance your immunity, which is able to reduce your risk of relapse.
Toxin-Removing Treatment combines series of Chinese medicine treatments to purify your blood and then stimulate the restoration of damaged kidney tissues and improve renal function. After a period of treatment, Mr Ma's proteinuria is alleviated and there are less bubbles in his urine. He will be released from our hospital as soon as possible. What's more, he looks very energetic and can have a walk in a park. We are really happy for his recovery.
This is just one of the successful case in our hospital. If you want to learn more patient story, you can leave a message or contact us via kidneycares@hotmail.com. We will reply you as soon as possible.