CKD Patients Should Choose Shijiazhuang Kidney Disease Hospital
2016-02-25 02:09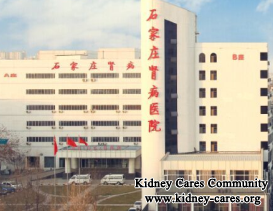 Shijiazhuang Kidney Disease Hospital is an international and specialized kidney disease hospital in China. It is a good option for CKD patients to get treated. Why should CKD patients choose Shijiazhuang Kidney Disease Hospital?
1. Special and effective treatment
Chinese medicine treatment is the very special treatment for kidney disease in Shijiazhuang Kidney Disease Hospital. And it is very effective to treat CKD by improving kidney and recovering kidney function. Chinese medicine has the functions of promoting blood circulation, dilating blood vessels, enhancing immunity, and preventing inflammation and degrading fibrosis. In this way, kidney is given a good condition to be under recovery gradually by the time.
Chinese medicine is a herbal and systematic treatment for kidney disease, which consist of a series of therapies like Hot Compress Therapy, Micro-Chinese Medicine Osmotherapy, Foot Bath, Acupuncture Therapy and Medicated foot bath, etc.
2. Good service and environment
In our hospital, doctors and nurses are very kind and responsible for patients, and they always chat and play together, just like friends. The environment is very good, and patients can feel like at home. As for meal, we have specialized diet for patients from different countries in the world. We have interpreters for many languages, thus patients do not have to worry about life in our hospital.
We have treated more than 600 foreign patients from many countries, and great success is achieved. If you need any help, or have any question, you can leave a message or contact our online doctor anytime. We will reply you very soon in detail.