Chinese Medicine Treatment: Cupping In Chronic Kidney Disease
2015-11-27 02:28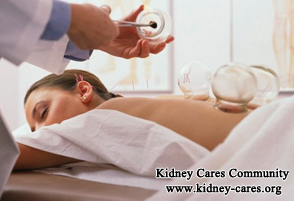 Cupping therapy is an ancient form of alternative medicine and it benefits many ailments such as colds, headaches, high blood pressure and stomachache, vomiting and diarrhea. Besides, it is also helpful in the treatment of chronic kidney disease (CKD).
Cupping therapy benefits CKD patients from the following aspects:
1. Lower back pain
Lower back pain is a common complication of kidney disease. Some have found that cupping therapy for back pain relief an effective process for getting relief. This methods involves sucking the congested blood from inside the body to the surface of the skin through the application of heat, which leads to normal blood flow.
2. Benefits high blood pressure
High blood pressure can be a leading cause of kidney disease and it can also cause further damage on kidneys. Cupping therapy can help control high blood pressure so as to stop further kidney damage.
3. Relieve gastrointestinal symptoms
Kidney disease can lead to various symptoms including gastrointestinal symptoms such as stomachache, vomiting and diarrhea. Cupping therapy can help relieve these symptoms.
4. Benefits kidney disorders
Cupping therapy also benefits kidney disorders including frequent or urgent urination.
Although cupping has so many benefits, it does not mean all kidney disease patients can take cupping. Cupping is contraindicated in cases of severe diseases such as cardiac failure, kidney failure and severe edema. If you want to take cupping therapy, you must seek your doctor's approval.
Cupping therapy is just one of alternatives for CKD. In our hospital-Shijiazhuang Kidney Disease Hospital, it only serves as a supporting remedy for kidney disease. Besides cupping therapy, treatment for kidney disease should be Micro-Chinese Medicine Osmotherapy, which is based on traditional Chinese medicine (TCM). However, different from TCM, it is used externally. Two medicated bags are put on patients' lower back where the kidneys are. Patients just need to lie in bed to take this therapy. Also Micro-Chinese Medicine Osmotherapy involves advanced technology-osmosis device. The osmosis device helps the effective substances in Chinese medicines permeate into kidney lesion directly. Through dilating blood vessels, preventing inflammation and coagulation, degrading extracellular matrix and providing nutrients, damaged kidney cells and tissues can be repaired and then kidney function will be improved greatly.
Cupping therapy can do some help for CKD patients. Moreover, Micro-Chinese Medicine Osmotherapy should also be used. If you have any question or want to know more information of Chinese medicine treatment, you can leave us a message below or consult our online doctor directly.
Our Treatment Effect
High creatinine level is dangerous to a kidney patient
Move the mouse to enlarge the picture
If you also want to reduce your high creatinine level, please look at this patient's report. When he was just hospitalized in our hospital on Dec 11, 2018,
His creatinine:1028umol/L,
urea: 39.7mmol/L
UA : 513umol/L
After a period of our treatment,
his creatinine:331umol/L, urea:16.1mmol/L
UA :325umol/L on Jan 5, 2019.
His condition was getting better and better. You can also get better.
For a CKD patient, you can choose Chinese medicine treatments to control your condition. your creatinine level can be reduced radically, symptoms can be alleviated and more importantly, your renal function will be improved. In this way, you can stay away from end stage kidney disease and avoid dialysis.