Ginger Therapy for Kidney Disease
2015-02-02 08:21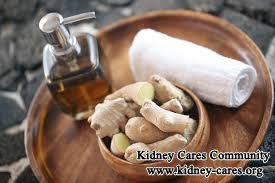 Ginger therapy is a common used folk therapy. Because it takes effect quickly and has few side effects, it is favored by many people. Can ginger therapy be applied into kidney disease treatment? Go on reading to look for the answer. You can also communicate with the online doctor to get the answer directly.
Ginger indeed has many health benefits to kidney function.
When ginger is used as a dietary supplement to kidney failure patients, it has the following health benefits.
-Ginger is packed with rich nutrient values, such as zingiberol, zingiberene and gingerol. They can speed up blood circulation and remove stasis to increase blood flow into the kidneys. This can improve ischemia and anoxia, which is good for kidney recovery. Besides, they can activate antioxidant pathways so as to protect your kidneys from being damaged further.
-Ginger can also provide protection from toxin-mediated kidneys damage as can occur with chemotherapy or alcohol-induced damage.
You can also use ginger to massage your back area.
It is to apply the towel on lower back, over the kidney, until the hot towel becomes warm. Re-soak towel and re-apply several times until ginger water becomes warm. Apply a few drops of gingelly oil over massaged area before and after massage. Remain in lying down posture for 2 minutes. Turn over and rest for 2 more minutes, then get up. After the massage, you should follow a restricted diet. Some people think that ginger massage is able to reduce the increase in urea, creatinine, BUN and helps restore the failed kidney function to certain extent. But it is still not widely recognized.
If you really want to find some alternatives for kidney disease, you can try Micro-Chinese Medicine Osmotherapy. It is to put two herbal bags on lower back, over the kidney. Herbs in bags include many kinds of herbs, not only ginger. With the help of osmosis devices, the active ingredients of herbs can be penetrated into the kidneys fully. It can also help you restore kidney function. This therapy has been practiced many years in Shijiazhuang Kidney Disease Hospital and proved effective in kidney function improvement.
If you are interested in our treatment for kidney disease, please leave a message or send an email to kidneycares@hotmail.com.