What Can Cause Intractable Hiccups in CKD Patients
2014-12-14 01:19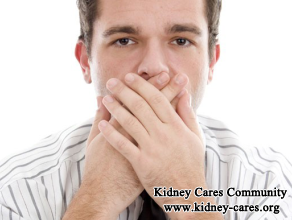 What can cause intractable hiccups in CKD patients? CKD is a kidney disease, which can be caused by both primary and secondary kidney diseases. When patients suffer from CKD, they will have gradually reduction of kidney function or GFR, then they will have some severe symptoms. Intractable hiccups is a common symptom for them.
Then what can cause intractable hiccups in CKD patients?
1. Too much toxins and wastes building up in blood
As we know, kidneys have the function of removing toxins and wastes out from blood. For CKD patients, when their kidneys cant work well, the toxins and wastes will fail to remove out. Urea nitrogen is a common waste in blood, which is the waste product of protein metabolism. And the high BUN level can cause hiccups in CKD. In addition, when patients suffer from low kidney function, they can also have electrolyte disorder, and this can also cause hiccups.
2. Side effects of medicines
CKD patients need to take some medicines to help control their symptoms. However, most of the medicines will cause some side effects for patients, such as intractable hiccups. Especially the steroid medicines will cause hiccups.
So how to treat the intractable hiccup in CKD patients?
From above, we can know the main causes of intractable hiccups for CKD patients, so we need first find the cause, and then have effective treatment.
If the hiccups is caused by side effects of medicines, you should ask your doctor to help change your medicine list, then it can help relieve the symptoms.
If the hiccups is cause by high BUN level or electrolyte disorder, you need to have effective treatment to help improve your kidney function and lower BUN level.
Here we recommend Micro-Chinese Medicine Osmotherapy to you, which is a featured Chinese herbal medicine in Shijiazhuang Kidney Disease Hospital. And the effective herbs can help repair your kidney damage and improve kidney function. Then it can help relieve the severe symptoms and avoid the intake of western medicines. So it can help prevent intractable hiccups fundamentally.
If you want to get more details of the treatment, you can ask online doctor, or you can also leave a message below.