Why Kidney Disease Causes Frequent Urination
2014-12-10 03:48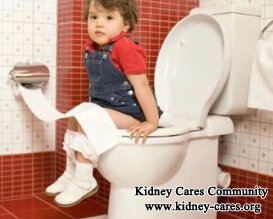 Frequent urination refers that you pass urine more often than usual. Kidneys are the organs to discharge excess fluid from the blood. When your kidneys are damaged, there are urine changes, one of which is frequent urination. Why kidney disease causes frequent urination?
High blood pressure
High blood pressure is a common cause of kidney disease and kidney disease can also cause high blood pressure. When your blood pressure is very high, it may impair the function of renal tubules so as to weaken the concentration function of urine. On the other hand, high blood pressure may harden renal arteriole. The main symptom of renal damage caused by high blood pressure is frequent urination.
Diabetes is the leading cause of chronic kidney disease. In order to lower blood sugar level, your kidneys have to work hard to expel them. Sugar is passed out of the body with urine so that you have frequent urination.
Diuretics
Diuretics are the medicines used by kidney patients to flush out fluid from the body. It can also make you pass urine more often.
Urinary tract infection and kidney infection
Kidney disease is associated with poor immune system. The immunosuppressants decreases your immune system as well. Weak immune system increases your risk of infection. Both urinary tract infection and kidney infection cause frequent urination.
If you have frequent urination with kidney disease, you should pay attention to it and talk with doctor to find the underlying causes as early as possible. Only in this way can you suit the remedy to the case and avoid further kidney damage.
In Shijiazhuang Kidney Disease Hospital, there are many therapies to improve kidney function, such as Micro-Chinese Medicine Osmotherapy, Medicated Bath, Circle Therapy, Enema Therapy, Acupuncture, Moxibustion, Steam Therapy, Mai Kang Mixture, etc. If you are interested in them, please feel free to contact us at kidneycares@gmail.com.