Cystatin C-An Important Estimator Of GFR
2015-10-06 03:10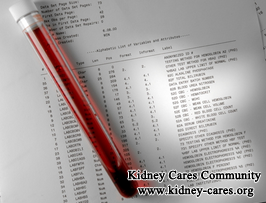 GFR (Glomerular Filtration Rate) tells a lot about how well your kidneys are working. If your GFR level is low, your kidneys may not be working as well as they should. This may be a sign of kidney disease. Well then, how is GFR estimated?Do you know cystatin C, which is an important estimator of GFR?
What is cystatin C?
Cystatin C is a protein that is produced by the cells in your body. When your kidneys are healthy, they keep the level of cystatin C in your blood just right. If the level of cystatin C is high in your blood, it may mean that your kidneys are not working well. A blood test of cystatin C can help your doctor find your GFR. The GFR number helps your doctor know how well your kidneys are working.
Cystatin C and GFR number
Cystatin C is another way to estimate your GFR besides creatinine level. The cystatin C number is used in a math formula with your age, race, and gender to measure your GFR.
When is cystatin C used to measure GFR?
A previous test for kidney function is inconclusive or needs to be confirmed. In this condition, cystatin C test is given to confirm whether you have kidney disease or not. Besides, you are overweight, elderly or have a lot of muscle. Cystatin C-based estimates for GFR are believed to be less influenced by muscle mass or diet than creatinine-based estimates.
How to improve low GFR?
If your GFR is low, it indicates your kidneys may be damaged. We can improve GFR by repairing kidney damage. Nowadays Chinese medicine treatments are proven to be effective in restoring injured kidneys and improving kidney function. Chinese medicine treatments in our hospital include Micro-Chinese Medicine Osmotherapy, Medicated Foot Bath, Medicinal Soup and Mai Kang Mixture (Four One Chinese Traditional Treatment), etc. Some can expand blood vessels and improve blood circulation. Some can prevent inflammation and coagulation. Some can discharge extracellular matrix. Some can provide nutrients. All these help restore injured kidneys and improve the self-healing ability of injured kidney cells. Gradually kidney function can be improved. And cystatin C in your blood will be reduced radically. Your GFR level will be improved as well.
Our Treatment Effect
High creatinine level is dangerous to a kidney patient
Move the mouse to enlarge the picture
If you also want to reduce your high creatinine level, please look at this patient's report. When he was just hospitalized in our hospital on Dec 11, 2018,
His creatinine:1028umol/L,
urea: 39.7mmol/L
UA : 513umol/L
After a period of our treatment,
his creatinine:331umol/L, urea:16.1mmol/L
UA :325umol/L on Jan 5, 2019.
His condition was getting better and better. You can also get better.
For a CKD patient, you can choose Chinese medicine treatments to control your condition. your creatinine level can be reduced radically, symptoms can be alleviated and more importantly, your renal function will be improved. In this way, you can stay away from end stage kidney disease and avoid dialysis.