Will Dialysis Be Started Immediately In Uremia
2017-06-25 03:21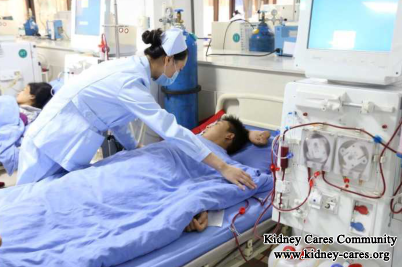 When kidney disease develops uremia, most people will choose dialysis to control the increase of creatinine level. But some people are afraid of side effects from dialysis like anemia and low blood pressure. Therefore, they do not want to begin dialysis.
In which condition should dialysis be started? And which condition can you postpone dialysis?
You can take these three factors into consideration: symptoms, kidney function condition and decline speed of kidney function.
Generally speaking, once patients come into uremia stage, dialysis should be began. That is, creatinine level is higher 708umol/L and Ccr is less than 9ml/min. But this index is not absolute. Since there is difference in each patient's illness condition, the doctor should have overall consideration and then decide if dialysis should be started.
If kidney failure is caused by diabetic nephropathy, patients usually start dialysis earlier than patients with other diseases. Because diabetic nephropathy develops quickly and more complications will occur like high blood pressure, retinopathy and renal microvascular disease. When Ccr does not amount to 9ml/min, doctor will recommend patients to take dialysis. Usually dialysis is started when Ccr is less than 15ml/min. In some patients, even if their creatinine level is not higher than 707umol/L, they should start dialysis immediately because they have serious complications like swelling, no urine, heart failure, pulmonary edema and encephaledema. Also some middle-aged kidney patients should rely on dialysis to excrete toxins because metabolic ability drops and kidney function declines which fails to discharge toxins out of body smoothly.
Is it better to start dialysis earlier?
Not really. Proper time to begin dialysis can discharge excessive toxins out of your body to reduce high creatinine level, reduce the occurrence of complications and improve patients' life quality.
In early stage of kidney damage, residual kidneys can still work. If your dialysis is started too earlier, this is not helpful to protect residual kidney function. On the contrary, if dialysis is begun too late, it is easy to cause serious complications to affect patients' life quality and even threaten your life.