What Is The prevention For Uremia
2015-05-13 10:52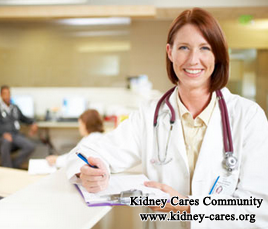 Uremia is not an independent disease while it is a clinical syndrome owned by various end-stage kidney disease and the end stage of chronic kidney failure. Then, how to prevent uremia?
1. Give up smoking
Cigarette has no benefit to your kidneys.
2. Supplement fluid
According to your medical conditions, you should consume proper fluid.
3. Take active treatment
Dialysis therapy is one effective remedy for treating end stage uremia. Dialysis include oral, peritoneal and hemo dialysis. Oral dialysis therapy is only suitable for mild uremia patients.
4. Have a good rest
Uremia patients should have an enough rest and cover a good nutrition. They should avoid strenuous activities.
5. Avoid chemical substances which can harm kidneys
Appliances or environment containing cadmium, chloroform, ethylene glycol and tetrachloroethylene. These usually exist in pesticides, automobile exhaust, coatings, building and household cleaners.
6. Limit foods with high cadmium
Researches have found that some chemical elements in household goods are related to acute and chronic kidney disease.
7. Follow a low protein diet
As for uremia patients, they should follow a low protein diet. The protein amount should be 0.5grams per kilogram of body weight so as to reduce the production and retention of nitrogen mass metabolites in the body. Since less protein is consumed, uremia patients should choose high nutrition value foods such as eggs, milk and other animal protein foods. Soy products and plant protein should be limited.
8. Chinese herbs
Although kidney disease cannot be reversed completely, we can still reverse part of kidney function and protect residual kidney function. Here we recommend Micro-Chinese Medicine Osmotherapy which is on the basis of traditional Chinese Medicine but it is used externally. Two medicated bags are put on patients' lower back and perform the functions of dilating blood vessels, preventing inflammation and coagulation, degrading extracellular matrix and provding nutrients. In this way, it provides a good environment for repairing kidney damage and improving kidney function. It can slow down the progression of kidney disease and delay dialysis.
If you experience the following symptoms, you should see a doctor as soon as possible.
Nausea, vomiting and diarrhea
Mouth odor of ammonia
Weakness and fatigue
Sallow complexion
Swelling
Urine changes
High blood pressure