Reflection For A Uremia Patient Undergo Dialysis At Home
2015-03-01 03:05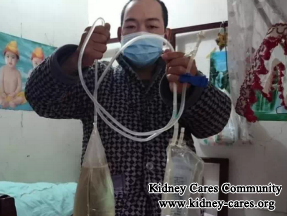 Yesterday there was a newspaper report that Jiang Yulin a uremia patient from Hu Nan undergoes dialysis at his own home. For three years of treatment, his disease does not be alleviated but be aggravated.
The family cannot afford the high costs but have no choice. As doctors, we feel rather emotional but at the same time we have to rethink it.
Rethink 1: why does the disease become worse and worse?
Jiang Yulin say that the first year of his disease has not so serious. But after three years of treatment, his condition becomes worse and worse and he has many debts.
The question is since the disease becomes worse and worse, why do you still insist on this treatment?
The foods are not delicious and we will change another restaurant next time. Why do we change another treatment if the therapy has no therapeutic effects.
Does uremia only rely on dialysis and wait for kidney transplant?
Blood purification is one important aspect of treating kidney disease. But dialysis is not the only way of blood purification.
Besides, dialysis only helps cleanse immune complexes in blood and other toxic substances but cannot remove immune complexes that have deposited on kidneys. Dialysis is not enough.
What about kidney transplant? Most families cannot afford the high cost. What's more, the kidney's survival rate after kidney transplant is not so optimistic.
Why not change another treatment?
Rethink 2: how to reduce the occurrence of tragedy?
The method in fact is really simple: first inquire and second hospitalization.
Most kidney disease progresses slowly aside from acute kidney disease so patients have a lot of time to choose a good hospital and proper treatment. If you choose a hospital and treatment randomly, the result is your disease becomes worse and worse.