Can Chinese Medicine Help Treat Uremia
2014-03-12 11:27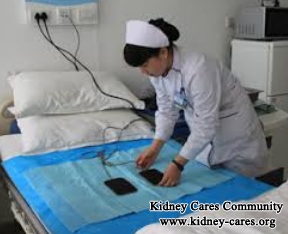 How to treat uremia? For this question, you should first know what is uremia, what causes uremia. After understanding these two questions, it will help you how to treat uremia from the root.
1. What is uremia?
Uremia presents metabolic disorder when chronic kidney disease develops to end stage kidney disease. This metabolic disorder chiefly refers to the disorder of water, electrolytes and acid-base. This disorder will cause the decrease of PH value and transform base into acid, leading to a series of discomforts like poor appetite, fatigue,vomiting, nausea, difficult breath. The water/sodium disorder will lead to high blood pressure, diarrhea and vomiting. And the disorder of potassium tend to result in inflammation and gastrointestinal bleeding. For disorder of phosphorus and calcium, bone problems like bone pain, bone fracture and osteoporosis due to high phosphorus level and low calcium level. The series of disorder of your body will decrease your immunity, which easily make bacteria attack your body.
2. What leads to uremia?
With the circulation of toxins in the blood, they will damage on your whole body system. Patients in this condition tend to suffer from cardiovascular diseases, respiratory system, intestinal tract, blood and nerve, muscle as well as skeletal system. In this condition, dialysis is needed urgently to alleviate symptoms. However, most patients want to get rid of dialysis, so a combining therapy of western medicine and Chinese medicine treatment is recommended for you.
3. How to treat uremia?
Chinese medicine therapy has its unique compared with western medicines. Chinese medicine treatment includes oral medicine treatment,cupping therapy and acupuncture. Besides, it also have some aiding treatment like Micro-Chinese Medicine Osmotherapy, enema, medicated bath, foot bath, circle therapy, etc. However, these therapies can just alleviate kinds of discomforts, but not the best treatment to treat uremia. The best treatment is a combining therapy of western medicine and Chinese medicines. That is to say, dialysis can remove wastes and toxins out of body quickly; on another hand, Chinese medicines can further clear wastes and toxins out of the body with little or no side effects. Micro-Chinese medicine osmotherapy can make active ingredient come to the kidney lesion directly so as to treat kidney disease from root. With the absorption of ingredients by kidneys, kidney function can be improved gradually and can work to remove toxins again. With the decreased amounts of toxins, uremia may be stopped or postponed.