Do Not Misdiagnose Your Uremia
2017-03-29 05:47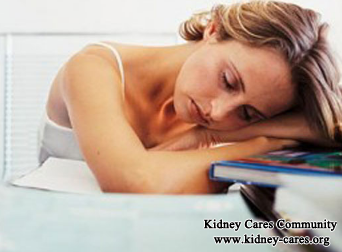 If Chronic Kidney Disease (CKD) is not controlled effectively, it will develop to uremia. The earlier you find uremia, the better treatment effect will be. However, some symptoms may cause the misdiagnosis so as to delay your condition. Therefore, knowing your symptoms is able to avoid misdiagnosis.
Symptoms in uremia include:
1. High blood pressure
High blood pressure will cause persistent damage on kidneys. In recent years, more and more people are suffering from uremia due to hypertension. Based on data, 15% people with high blood pressure will experience uremia finally.
However, it is more likely to take hypertension for only vascular disease or kidney complication so patients with illness history of hypertension should take regular check up for renal function. Patients with kidney disease and high blood pressure need to take regular checkup for kidney condition and take effective treatment to control your blood pressure so as to protect renal function.
2. Anemia
Anemia is a common complication in uremia. Because kidneys can not produce enough erythropoietin, this prevents bone morrow's hematopoietic function and affects the life span of red blood cells.
3. Digestive tract symptoms
Uremia will lead to metabolic acidosis. Therefore, digestive tract symptoms like poor appetite, nausea, vomiting or diarrhea are early symptoms in uremia.
You need to take regular check up for renal function to keep far away from uremia and avoid misdiagnosis.
As for uremia treatment, aside from controlling symptoms, the key point for uremia is to repair injured kidney tissues and improve renal function. Then, patients can live a longer life and further kidney damage can be prevented. The treatment is a systematic Chinese medicine therapy including Micro-Chinese Medicine Osmotherapy, Medicated Bath, Mai Kang Mixture, Medicated Bath, Medicated Foot Bath, Medicinal Soup and Steaming Therapy, etc. Not only blood can be purified but also kidney function can be improved. However, this therapy is only available in China. If you want to know detailed information, you can leave a message below or consult our online doctor directly.