Digestive System Changes Caused by Uremia
2012-11-19 15:34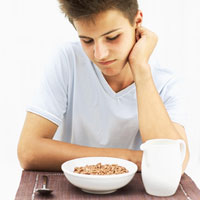 Uremia occurs in kidney failure stage wherein the wastes accumulated can cause problems in various systems. Digestive system symptoms are commonly experienced by patients with Uremia, which can reduce the nutrition status and greatly affect their health.
What are the manifestations of digestive system changes caused by Uremia? Each human body has two kidneys. Actually, one well working kidney can maintain normal physiological activities, so usually no symptoms can occur to indicate early stage kidney injury. People find some symptoms when their kidney function has halved. Digestive system change occurs in the early course of chronic kidney failure, and will become much severer issues with the illness condition worsening. Kidney failure means the end-stage of kidney disease wherein remaining kidney function is no more than 15%. Uremia refers to the clinical syndrome caused by the failing kidneys. People with Uremia may have changes in various parts of their digestive tract. The main manifestations of digestive tract changes in Uremia include the follows:
1. Oral cavity. Urea nitrogen as a waste product build up in the body when the kidneys are not performing well. The Urea enzymes produced by the body can function on the urea within saliva, which can produce ammonia. The ammonia can stimulate oral cavity and cause non-ulcer or ulcer stomatitis.
2. Esophagus. Patients with chronic kidney failure have bleeding tendency, and diffuse errhysis can occur in their esophageal mucosa. Esophageal ulcer can cause esophageal false diverticula-like changes; occasionally reflux esophagitis occurs.
3. Stomach and duodenum. Gastric symptoms are common in Uremia. (Hemorrhagic) Gastritis, duodenal or multiple ulcers are common types.
4. Intestinal tract. Bleeding and swelling in intestinal tract mucosa is detected in many cases, which occasionally accompanies ulcers and necrosis. In later stages of Uremia, patients may suffer from intractable diarrhea. Combined Colonic diverticulum punch is seen in some cases; intestinal wall bleeding combined with bacterial infection can cause ulcers, which mostly occurs in the cecum, ascending colon and sigmoid colon.
Digestive tract system changes caused by Uremia are mainly associated to the accumulated toxins in bloodstream. For people with Uremia, positively controlling the complications, selecting a light diet and balancing the intake of proteins will help to reduce digestive tract symptoms. In addition, the proper method focuses on protecting the kidneys and improving the kidney condition so as to gradually get the complications under control.
The above introduces the changes in digestive tract that can be caused by Uremia. For further concerned information or management tips on Uremic complications, you may email us directly for free.
Get free online analysis for your illness condition here. Choose any of the following tools to start instant communication with our experts.
Leave Message
Leave your problem to us, we are here to help you with free charge!