What Is The Matter Of Skin Itch In Uremia
2015-02-28 07:20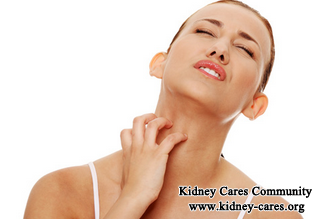 Some uremia patients will have itchy skin problem. Itchy skin will become serious and patients cannot sleep well. Well, what is the matter of itchy skin in urine? How to deal with itchy skin?
Uremicpruritus is the most common complication in end stage renal disease. Patients will experience different levels of itchy skin of whole body or part of body. The itchy will often present on back, breast, arms and legs, and headache.
What are the causes of uremicpruritus?
1. xerodermia
Dry skin is one common manifestation of uremicpruritus. The shrinkage of sebaceous gland and sweat gland, exocrine function obstacle, an increased PH value of skin stratum corneum and increased vitamin A concentration in the epidermis are all factors of xerodermia.
2. Hyperphosphatemia and hypercalcemia
Hyperphosphatemia and hypercalcemia have direct relation with uremicpruritus. Besides, the higher blood phosphorus level is, the higher incidence rate of itchy skin occurs.
3. dialysis
Dialysis has little function for middle and large molecular toxins. Long term of dialysis is easy to make middle and large molecular substances pile up in your body so as to cause or worsen itchy skin.
How to cope with itchy skin in uremia?
To alleviate itchy skin, we recommend Chinese medicines like Micro-Chinese Medicine Osmotherapy, Medicated Bath, Foot Bath, Acupuncture and Circle Therapy, etc. They can dilate blood vessels and promote blood circulation so as to discharge more toxins from the body. In this way, itchy skin can be alleviated effectively and naturally. What's more, the active ingredients can repair damaged kidneys and improve renal function. When renal function is improved, middle and large molecular toxins can all be removed from the body. Thus, itchy skin will be eased from the root. Aside from that, other symptoms will also be alleviated.
If you have any other question, please feel free to leave a message to kidneycares@hotmail.com or consult our online doctor directly.
Our Treatment Effect
High creatinine level is dangerous to a kidney patient
Move the mouse to enlarge the picture
If you also want to reduce your high creatinine level, please look at this patient's report. When he was just hospitalized in our hospital on Dec 11, 2018,
His creatinine:1028umol/L,
urea: 39.7mmol/L
UA : 513umol/L
After a period of our treatment,
his creatinine:331umol/L, urea:16.1mmol/L
UA :325umol/L on Jan 5, 2019.
His condition was getting better and better. You can also get better.
For a CKD patient, you can choose Chinese medicine treatments to control your condition. your creatinine level can be reduced radically, symptoms can be alleviated and more importantly, your renal function will be improved. In this way, you can stay away from end stage kidney disease and avoid dialysis.
Latest Articles
Uncle Duan is from Jiang Xi Province, China, a
Is it possible to reduce vomiting if creatinin