What Foods Should Uremia Patients Eat
2015-10-05 08:47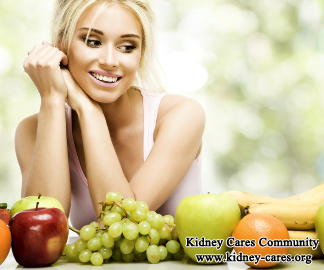 A reasonable diet plays an important role in the recovery of uremia. Unhealthy diet will worsen your illness condition. Well then, what should you eat to treat your uremia?
1. Low protein and phosphorus diet
As for patients in the early stage of kidney disease, protein intake should not be limited strictly. However, in uremia, kidneys cannot discharge metabolic products of protein completely so blood urea nitrogen will increase in your body, which will burden your kidneys. At this time, protein intake should be restricted strictly. That is, you should follow a low protein and phosphorus diet.
2. Limit sodium intake and eat light foods
In uremia, you had better eat easily-digestible foods and reduce the intake of foods with high cholesterol and high saturated fatty acid. This helps avoid burdening your intestinal tract and kidneys.
3. Do not eat foods with high potassium and high purine.
If you have decreased urine output, you should not eat foods with high potassium such as bananas, oranges and soy sauce. Because potassium is discharged via urine. Less urine output will discharge less potassium. If you eat more high potassium foods, you may suffer from hyperkalemia, which can threaten your life.
4. Adequate carbohydrate intake
Due to protein limitation, calories are mainly supplied by carbohydrate. Thus, sugar in diet should be increased moderately to meet the needs of the body to the calories. At the same time, adequate calories can reduce the consumption of protein and reduce kidney burden.
5. Supplement vitamin and minerals
Due to poor appetite and imbalanced nutrition, you should eat some foods with rich vitamin C, vitamin B and vitamin D such as fresh vegetables and fruits. As for anemia, you can eat some foods with rich iron like eggs, tomato, red dates and green leaf vegetables.
We hope the above information can help you. Aside from proper foods, you also need to take treatment to repair your impaired kidneys and improve kidney function. Only in this way can you live a relatively longer life.
Our Treatment Effect
High creatinine level is dangerous to a kidney patient
Move the mouse to enlarge the picture
If you also want to reduce your high creatinine level, please look at this patient's report. When he was just hospitalized in our hospital on Dec 11, 2018,
His creatinine:1028umol/L,
urea: 39.7mmol/L
UA : 513umol/L
After a period of our treatment,
his creatinine:331umol/L, urea:16.1mmol/L
UA :325umol/L on Jan 5, 2019.
His condition was getting better and better. You can also get better.
For a CKD patient, you can choose Chinese medicine treatments to control your condition. your creatinine level can be reduced radically, symptoms can be alleviated and more importantly, your renal function will be improved. In this way, you can stay away from end stage kidney disease and avoid dialysis.
Latest Articles
Uncle Duan is from Jiang Xi Province, China, a
Is it possible to reduce vomiting if creatinin