What Uremia Patients Need To Pay Attention To After Dialysis
2015-06-02 10:45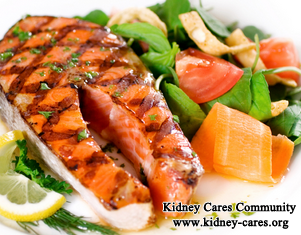 What uremia patients need to pay attention to after dialysis? Some patients think dialysis can remove harmful and waste substances out of the body so they relax the diet. In fact this is a wrong idea. After dialysis, uremia patients also need to focus on diet intake.
Chronic kidney failure patients who receiving sustaining hemodialysis usually have oliguria or even anuria. Therefore, fluid intake should be limited otherwise it will cause swelling, high blood pressure and heart failure as well as other complications. How much water you can intake depends on patients' specific medical condition.
Diet for uremia patients after dialysis:
1. Low protein diet
Patients in azotremia phase and uremia stage should choose high quality animal protein such as fresh milk, egg, fish and lean meat to supplement various essential amino acid.
2. Low salt diet
Uremia patients should avoid salty foods especially all kinds of salted foods like bacon, sausage, salted fish. This is because these foods will reduce the urine volume.
3. Supplement high quality protein foods
Uremia patients need to supplement some high quality protein foods like lean meat, egg white and fish, etc. While plant protein like bean products, corn and flour should be eaten less.
4. Supplement vitamin D
Dried beans, internal organs, yeast and germ foods should be consumed less because these foods will elevate calcium and uric acid level.
5. Low potassium diet
When kidneys start making weak urine or stopped working at all, your body lost its ability to control its potassium level. This is when potassium can become dangerous for you. Figuring out how much potassium you can safely eat and sticking to it is one of the biggest problems with being on dialysis. The necessary restrictions in the amount of salt and meat in your diet are similar to those recommended to anyone who wants to eat a healthy diet.
Diet is one aspect which dialysis patients need to pay attention to. Besides, if patients still have urine, it is possible for them to reduce dialysis frequency or even avoid dialysis. The treatment is Chinese Medicine Treatment including Micro-Chinese Medicine Osmotherapy, Medicated Bath, foot bath, acupuncture, enema therapy, acupoint application and steaming therapy, etc. According to patients' medical conditions, different remedies will be chosen and some of them are usually combined together to treat uremia. After a period of treatment, injured kidney tissues can be repaired and gradually kidney function will be enhanced. Thus, dialysis frequency is more likely to be reduced.
Our Treatment Effect
High creatinine level is dangerous to a kidney patient
Move the mouse to enlarge the picture
If you also want to reduce your high creatinine level, please look at this patient's report. When he was just hospitalized in our hospital on Dec 11, 2018,
His creatinine:1028umol/L,
urea: 39.7mmol/L
UA : 513umol/L
After a period of our treatment,
his creatinine:331umol/L, urea:16.1mmol/L
UA :325umol/L on Jan 5, 2019.
His condition was getting better and better. You can also get better.
For a CKD patient, you can choose Chinese medicine treatments to control your condition. your creatinine level can be reduced radically, symptoms can be alleviated and more importantly, your renal function will be improved. In this way, you can stay away from end stage kidney disease and avoid dialysis.
Latest Articles
Uncle Duan is from Jiang Xi Province, China, a
Is it possible to reduce vomiting if creatinin