Diet Tips For Uremia Patients
2015-03-18 17:00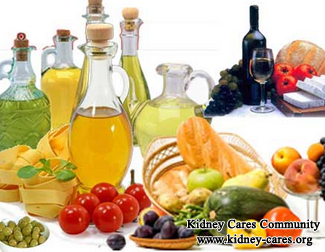 Digestive system changes are the earliest and the most common complication of uremia in early stage. Patients will experience dyspepsia, inappetence, abdominal distension, vomiting and nausea, and even glossitis, etc. They are diagnosed with uremia.
Aside from digestive system symptoms, uremia patients in the early stage may also have symptoms like cardiovascular system, respiratory system, skin and bone system. Uremia patients can also experience anemia, bleeding gums and bleeding spots in the skin. More and more chronic kidney disease patients understand that if kidney disease does not get good control, the final result is uremia. To avoid uremia, it is very important to learn about the diet for uremia.
What food can uremia patients eat?
Uremia patients are suitable to eat saccharide including white sugar, rock candy, honey and fruit drops.
Uremia patients can eat plant oil like peanut oil, corn oil and sunflower seed oil.
Patients with uremia are allowed to eat low protein starch such as corn flour, cornstarch, lotus root starch and bean thread.
To increase the flavor of food, uremia patients can use condiment like white sugar, white vinegar, alcohol, pepper, caraway, lemon juice.
What foods are bad for uremia patients?
Avoid bean and bean products including green beans, tofu, red beans and dried tofu.
Stay away from nuts including sunflower seeds, peanuts, cashew nut, chestnut, raisin and walnuts.
Avoid ice cream or more than two cups of milk.
Limit the intake of meat, especially for salted or smoked meats such as salted fish, ham, sausage and salted eggs.
Avoid seafood like shrimp, clam and oyster.
Of course, different person has different medical conditions so individual diet is also different. The above is only common diet for kidney disease patients. If you want to get your own diet, you can leave a message below or consult our online doctor directly. We will make a diet plan according to your own medical conditions.
Our Treatment Effect
High creatinine level is dangerous to a kidney patient
Move the mouse to enlarge the picture
If you also want to reduce your high creatinine level, please look at this patient's report. When he was just hospitalized in our hospital on Dec 11, 2018,
His creatinine:1028umol/L,
urea: 39.7mmol/L
UA : 513umol/L
After a period of our treatment,
his creatinine:331umol/L, urea:16.1mmol/L
UA :325umol/L on Jan 5, 2019.
His condition was getting better and better. You can also get better.
For a CKD patient, you can choose Chinese medicine treatments to control your condition. your creatinine level can be reduced radically, symptoms can be alleviated and more importantly, your renal function will be improved. In this way, you can stay away from end stage kidney disease and avoid dialysis.
Latest Articles
Uncle Duan is from Jiang Xi Province, China, a
Is it possible to reduce vomiting if creatinin