What Is Diet for Uremia
2014-11-27 15:57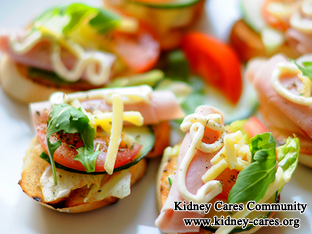 What is uremic diet? Uremia is a medical term which can be defined as the terminal clinical manifestation of kidney failure. It is a very dangerous condition, so we need to take actions to make sure the safety of our life. Diet is an important part of the systematic treatment for uremia. Although uremia can not be cured by making diet changes, a well-planed diet contributes to patient's recovery greatly. Well, what is the diet for uremia?
There is no such a diet plan that is good for all the uremia patients, because a good diet plan should be based on patients' exact illness condition. Therefore, if you want to get individual advice, please contact our online doctor.
Although here we can not give an exact diet plan, we can give some diet suggestions that is suitable for most of the uremia patients.
1. High quality protein
Foods with high quality protein are good choice for uremia patients in daily diet. High quality protein contains essential amino-acid that can not be produced in our body, so it can be fully consumed. For this reason, only less wastes are produced during this process. The end product of protein is urea nitrogen which need to be removed out of the body by kidney, so by having high quality protein, kidney burden can be reduced. Foods rich in high quality protein include lean meat, fish, egg white, milk and beans.
2. High-calcium diet
High-calcium diet is also recommended for uremia patients because they are likely to have hypocalcemia due to kidney disorder. Kidney serves us as a filter, but besides that, it also help to maintain electrolyte balance. When kidneys can not do this job any more, electrolyte disturbance appears and hypocalcemia is a common one. Therefore, high-calcium diet is recommended for uremia patients.
3. High carbohydrate diet
Foods high in carbohydrate are also good for uremia patients. Carbohydrate can provide us with necessary energy. With high carbohydrate diet, protein consumption can be reduced. Urea nitrogen, the end product of protein, need to be cleared away from blood by kidney, so when less protein is consumed in the body, kidney burden is also reduced.
4. High-vitamin diet
Uremia patients also need to have high vitamin diet, because many foods are taboo, which makes them easy to be lack of vitamin. Therefore, they need to choose the foods that are in high vitamin and meanwhile they are allowed to eat.
Lastly, uremia is already a very dangerous condition, so patients need to be very careful about foods they eat, so as to avoid causing further deterioration of their illness.