Why Do Children Have A High Risk Of Uremia
2014-08-15 03:02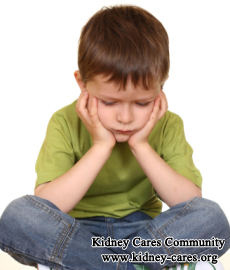 At present, children with uremia occupy considerable proportion in kidney disease. This is caused by their environment and own medical conditions. They have low resistance to fight against infection so they usually have repeated infection. After infection, they do not pay much attention to it and have no timely treatment to prevent infection. This gradually damage kidney intrinsic cells and kidney disease starts deteriorating. Finally, uremia is formed.
After analysis and research by experts, there are two major factors leading to high incidence of uremia in among children.
1. Chronic nephritis
Chronic nephritis is an important cause of uremia. Since glomerular is lack of blood and oxygen, it damages the glomerular capillary endothelial cells. Then it makes inflammatory cells release inflammatory medium, which results in urine protein, blood in urine and gradually glomerular will progress to fibrosis lesions, hardening phase. This disease is called Glomerular disease. When kidney intrinsic cells present phenotype switch, it will generate extra cellular matrix. These extracellular matrix replaces healthy kidney nephrons. Functional kidney nephrons will become less and less and kidney function declines persistently. Kidney scarring tissues will be formed massively. In these conditions, kidneys lose the function of filtering and expelling, which will develop to end stage renal kidney.
2. Urinary tract infection
Urinary tract infection is one of the most common disease inducing interstitial nephritis. Urinary tract infection can be divided into two types according to course of the disease: acute urinary tract infection and chronic urinary tract infection. The course of disease less than 6 months is called acute urinary tract infection while the course of disease over 6 months is called chronic urinary tract infection. Acute urinary tract infection has a good prognosis and does not affect kidney function. However, if you delay the treatment or take improper therapy, it will change into chronic urinary tract infection and repeated infection. It gradually affects pelvis and then renal interstitium as well as causes kidney damage. Kidneys begin to have lesions and eventually forms uremia.
Once your baby is diagnosed with urinary tract infections and other diseases, you should take your body to do checkups so as not to delay the disease and miss the best treatment time.