Foods to Increase Hemoglobin Levels for Diabetic Patients
2015-11-30 02:43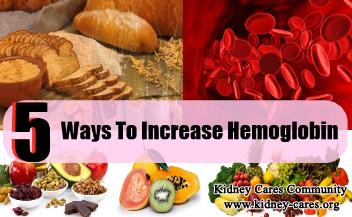 Diabetic patients often experience low hemoglobin levels. With low hemoglobin level, patients may suffer from symptoms of anemia such as fatigue, weakness, poor appetite, dizziness and shortness of breath. How is hemoglobin level related with diabetes? Are there some foods which can increase hemoglobin level for diabetic patients?
Kidney damage at several levels is a complication of diabetes, and one problem often leads to the other. When kidneys are damaged, they cannot excrete enough hormone that regulates red blood cell production, erythropoietin (EPO). With decreased red blood cells, hemoglobin level will decrease as well. Hemoglobin is the part of red blood cells that carries oxygen to the cells. Under such a condition, anemia may occur.
Top five foods to increase your hemoglobin level
1. Red meat
It is a well-known fact that meat, particularly red meat, is an excellent source of iron. The highest concentration of iron, vitamin B12, and folate can be found in the liver. Other good sources are liver from beef, turkey and chicken.
2. Beetroot
Beetroot is the best natural remedy to boost blood count. It has the function of regenerating iron content and activating red blood cells, supplying fresh oxygen to the blood.
3. Fruits
Fruits like raisins, dried figs, apples, grapes and watermelon get the red blood cells flowing but also improve the blood count. Besides, citrus fruits like lime and grapefruit help attract iron. They play an important role in increasing blood count.
4. Starches
Starches such as rice bran, wheat bran, and oat bran are excellent sources of iron. It can increase hemoglobin level to some extent.
5. Consume adequate protein
Consumption of iron alone will not help. The low hemoglobin diet must consume adequate protein. Milk and its products, eggs, organ meat and soy are the best sources.
The above are some natural foods for increasing hemoglobin levels for diabetic patients. If your diabetes has damaged your kidneys, you should adopt Micro-Chinese Medicine Osmotherapy to repair injured kidney tissues and improve kidney function. Any question, you can leave us a message below or send an email to kidneycares@hotmail.com. We will reply you as soon as possible.