Daily Diet Requirement For Diabetes Patients
2015-03-08 07:32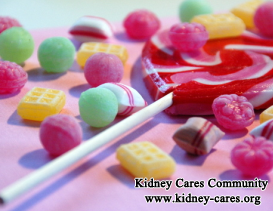 Medical nutrition therapy is an integral component of diabetes management and of diabetes self-management education. The following introduces you daily diet requirement for diabetes.
Diabetes and diet tip 1: choose high fiber, slow release carbs
Carbs give you fuel. They affect your blood sugar faster than fats or protein. You can get them from fruits, milk and yogurt, bread, cereal, rice, pasta, starchy vegetables like potatoes, corn and beans. Some carbs are simple, like sugar and others are complex like those found in beans, nuts, vegetables and whole grains. Complex carbohydrates are better for you because they take longer for your body to digest. They give you steady energy and fiber.
Diabetes and diet tip 2: be careful about sweets
Eating for diabetes does not mean eliminating sugar. If you have diabetes, you can still enjoy a small serving of your favorite dessert now and then. The key is moderation. Tips for cutting down on sugar:
Reduce how much soft drinks, soda and juice you drink;
Sweeten foods yourself and reduce the amount of sugar in recipes;
Find healthy ways to satisfy your sweet tooth;
Start with half of the dessert you normally eat
Diabetes and diet tip 3: choose fat wisely
Fats should provide 25-35% of daily calories. The best types of fats are monounsaturated like olive, peanut, canola oils, and avocados and nuts, and omega-3 polyunsaturated fat such as fish, flaxseed oil and walnuts. Limit saturated fat like red meat, butter to less than 7% of daily calories.
Diabetes and diet tip 4: eat regularly
When you maintain a regular meal schedule, your body is better able to regulate blood sugar levels and your weight. Diabetics should eat regular small meals-up to 6 per day. People tend to eat large portions when they are very hungry, so eating regularly will help you keep your portions in check.
Aside from daily diet requirement, diabetes also can take some exercise. Exercise can help your weight loss efforts and is especially important in maintaining weight loss. This is also evidence that regular exercise can improve your insulin sensitivities even if you do not lose weight. Any question? You can leave a message below or consult our online doctor via skype, whatsapp, or sending message to kidneycares@hotmail.com.