Is It OK To Take Dandelion Tea With Stage 4 CKD
2015-07-29 06:40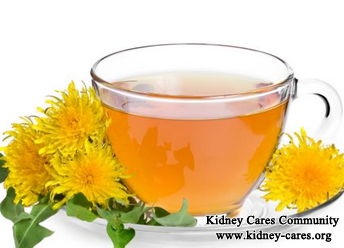 Dandelion herb is one such useful plant, and its benefits have been utilized for generations to treat a variety of illnesses and promote organ health. Well, is it OK to take dandelion tea for patients with stage 4 chronic kidney disease (CKD)?
Dandelion tea can be drunk by stage 4 CKD patients with the following health benefits:
1. Diuretic property
Dandelion has diuretic property that helps the kidneys clear out waste, salt and excess water. This inhibits microbial growth in the urinary system too.
2. Good for diabetes patients
Diabetes is the first leading cause of kidney disease so patients with diabetes should manage their blood sugar well. Recent studies show promise that dandelion helps regulate blood sugar and insulin levels.
3. Lower high blood pressure
As a diuretic dandelion increases urination which lowers blood pressure. The fiber and potassium in dandelion also regulate blood pressure. High blood pressure is a second leading cause of kidney disease.
4. Boost immune system
With kidney disease, immune system will be affected. Dandelion boosts immune function and fights off microbes and fungi.
5. Relieve water retention
Stage 4 kidney disease patients often have water retention. In severe cases, water retention will cause shortness of breath and even death. Dandelion tea is one of the most effective herbs for getting the bloat out and helping relieve water retention.
6. Prevent inflammation
Dandelion contains essential fatty acids and phytonutrients that reduce inflammation throughout the body. This can relieve pain and swelling as well as reduce further damage on kidneys.
Correct herbal tea does assist the whole treatment for people with kidney disease to some extent while drinking herbal tea mistakenly can also cause some side effect. Thus, if you suffer from kidney disease and want to drink some herbal tea, you can ask your kidney doctors and they will tell you which herbal tea is good for you.
Though dandelion tea is helpful for CKD stage 4, it cannot treat kidney disease. The most important thing you should is to take right treatment to repair damaged kidneys and improve renal function.
Our Treatment Effect
High creatinine level is dangerous to a kidney patient
Move the mouse to enlarge the picture
If you also want to reduce your high creatinine level, please look at this patient's report. When he was just hospitalized in our hospital on Dec 11, 2018,
His creatinine:1028umol/L,
urea: 39.7mmol/L
UA : 513umol/L
After a period of our treatment,
his creatinine:331umol/L, urea:16.1mmol/L
UA :325umol/L on Jan 5, 2019.
His condition was getting better and better. You can also get better.
For a CKD patient, you can choose Chinese medicine treatments to control your condition. your creatinine level can be reduced radically, symptoms can be alleviated and more importantly, your renal function will be improved. In this way, you can stay away from end stage kidney disease and avoid dialysis.