Can Someone with Kidney Disease Stage 4 Take Forskolin
2015-02-12 08:08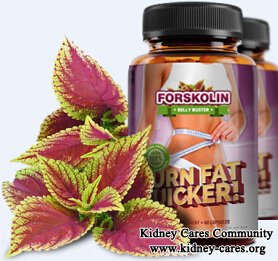 Many kidney patients have weight problems, which puts them at risk for many serious health conditions, such as diabetes, heart disease, sleep apnea, cancer, etc. Forskolin is a miraculous weight loss plant. Can someone with kidney disease stage 4 take Forskolin?
Now let's learn more information about Forskolin.
Forskolin is an herbal extract from Coleus forskohlii, a plant belonging to the mint family. It increases the production of hormone sensitive lipase, an enzyme that can burn fat in your body. It also activates the production of cyclic adenosine monophosphate, which triggers the release of a thyroid hormone that also burns body fat and calories. This sends your metabolism into overdrive and produces natural energy that lasts you all day.
It seems that it is a very natural way to lose weight, but it also has many side effects, for example:
-Forskolin might decrease blood pressure. If you take high blood pressure medications, you had better not use Forskolin in case that it causes your blood pressure to go too low.
-Use Forskolin with medications that increase blood flow to the heart may cause dizziness and lightheadedness.
-Take Forskolin along with medications that slow clotting might increase the chances of bruising and bleeding.
-If your kidney disease is caused by polycystic kidney disease (PKD), Forskolin should be avoided.
Therefore, you had better talk with your doctor if you want to use Forskolin for weight loss.
If you have weight problems, you can control your weight through exercise and diet.
-Though patients with stage 4 kidney disease are often encouraged to have a good rest, you should not give up exercise. Regular exercise helps you control your weight. It can also help you lower blood pressure, reduce cholesterol level, improve sleeping quality, etc.
-When you are over weight, you should also adjust your diet. A balanced diet can not only satisfy the need of body, but also help you control weight and consolidate the therapeutic effect.
-If your weight gain is caused by steroid treatment, you can use Traditional Chinese Medicine treatment together, which can counteract the side effects of steroids. TCM can also help you improve blood circulation, inhibit kidney inflammation and stop kidney fibrosis so as to protect your kidneys from being damaged. Moreover, it can also help you lose weight.
Can someone with kidney disease stage 4 take Forskolin? You had better talk with your doctor to make sure in case that it speeds up your kidney failure. You can also send your medical test report to kidneycares@hotmail.com and then our doctor will help you make a wise decision.
Our Treatment Effect
High creatinine level is dangerous to a kidney patient
Move the mouse to enlarge the picture
If you also want to reduce your high creatinine level, please look at this patient's report. When he was just hospitalized in our hospital on Dec 11, 2018,
His creatinine:1028umol/L,
urea: 39.7mmol/L
UA : 513umol/L
After a period of our treatment,
his creatinine:331umol/L, urea:16.1mmol/L
UA :325umol/L on Jan 5, 2019.
His condition was getting better and better. You can also get better.
For a CKD patient, you can choose Chinese medicine treatments to control your condition. your creatinine level can be reduced radically, symptoms can be alleviated and more importantly, your renal function will be improved. In this way, you can stay away from end stage kidney disease and avoid dialysis.