Is Constipation Due to Ketosteril Intake
2015-05-12 03:14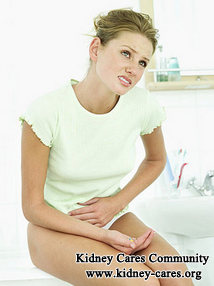 Ketosteril is used in kidney disease to reduce high creatinine level. It can lower creatinine level to some extent but ketosteril may also cause some side effects. Some patients taking ketosteril always complain of constipation. Is constipation due to ketosteril intake?
Yes, constipation can be a complication due to ketosteril intake. Ketosteril can cause hypercalcemia which can cause fatigue, muscle weakness, irregular heartbeat, loss of appetite, nausea, vomiting and constipation.
What should do with constipation in kidney disease?
1. Get more fiber into your diet
When it comes to constipation, the first treatment is generally to recommend an increase in dietary fiber. For the relief of constipation, there is some limited research support for increasing insoluble fiber in particular. Insoluble fiber does not dissolve water and thus add bulk and moisture to the stool.
2. Avoid cheese and dairy products
Cheese and dairy products usually contain lactose, which many people are very sensitive to. This lactose can cause gas, bloating, and constipation for some people. Thus, if you have constipation, cut cheese, milk, and other dairy products out of your diet.
3. Herbs with diuretic property
Ketosteril is not the only way to lower high creatinine level. To bring high creatinine level down, some natural herbs can be applied such as nettle leaf, dandelion root, cinnamon and salvia, etc. These herbs can stimulate kidney's filtering rate and increase urine output so as to remove wastes like creatinine out of the body.
4. Improve renal function
The most important thing for high creatinine level is to repair kidney damage and improve renal function. Here we recommend Micro-Chinese Medicine Osmotherapy which is on the basis of traditional Chinese Medicine. But it is used externally. With the help of osmosis device, the active ingredients can come to kidney nidus directly. Through dilating blood vessels, preventing inflammation and coagulation, degrading extracellular matrix and providing nutrients, kidney damage can be repaired gradually. What's more, kidney function will be improved naturally. In this way, high creatinine level will be decreased effectively.