Is It Bad to Have Bubbles in Urine with CKD Stage 4
2015-02-22 03:37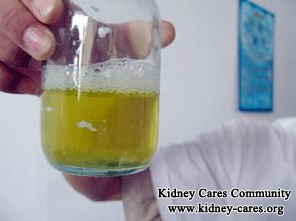 There are totally 5 stages in CKD which is marked by progressive loss of kidney function. CKD stage 4 is not the most serious stage, but it always causes lots of symptoms. Bubbly urine is just one of the most common symptoms of it. Well, is it bad to have bubbles in urine with CKD stage 4?
How is CKD stage 4 linked with bubbly urine?
Bubbly urine is the clinical manifestation of proteinuria which refers to the presence of excess protein in urine. Normally, only less than 150mg protein are lost in urine in 24 hours. Such a amount of protein can not be detected with routine urine test, so we usually say there is no protein in our urine.
Kidney filters blood and during this process, protein is stopped from leaking into urine while blood flow through glomerulus where there is glomerular filtration membrane which works through mechanical barrier and charge barrier. In CKD stage 4, this membrane is injured, so protein leak into urine. As a result, proteinuria is formed and bubbles appear in urine.
Is it bad to have bubbles in urine with CKD stage 4?
Bubbly urine is a symptom of CKD and proportional to kidney condition. In general, the more serious kidney damages, the more bubbles in urine. Therefore, by measuring protein in urine, we can learn about kidney condition.
Although proteinuria or bubbly urine is a symptom of CKD stage 4, if not controlled well, it will in turn aggravate illness condition, so tight control of proteinuria is very important. Protein leak into urine as glomerular filtration membrane is damaged, so we need to repair injured membrane. Only in this way, can protein leakage be stopped permanently. Micro-Chinese Medicine Osmotherapy is a very good natural treatment for protein leakage. Besides, the end product of food protein is urea nitrogen which needs to be removed by kidney. High protein consumption will increase kidney burden, so CKD stage 4 patients are usually suggested to limit protein intake, so as to reduce kidney burden. Generally, 0.4 gram of protein per kilogram of body weight per days is needed.
Lastly, bubbly urine is just one of the symptom of CKD stage 4. Besides it, there are skin itching, nausea, vomiting, tiredness and even swelling. If you want to know details about the management of these discomforts. Please leave us message below or consult online doctor directly.
Our Treatment Effect
High creatinine level is dangerous to a kidney patient
Move the mouse to enlarge the picture
If you also want to reduce your high creatinine level, please look at this patient's report. When he was just hospitalized in our hospital on Dec 11, 2018,
His creatinine:1028umol/L,
urea: 39.7mmol/L
UA : 513umol/L
After a period of our treatment,
his creatinine:331umol/L, urea:16.1mmol/L
UA :325umol/L on Jan 5, 2019.
His condition was getting better and better. You can also get better.
For a CKD patient, you can choose Chinese medicine treatments to control your condition. your creatinine level can be reduced radically, symptoms can be alleviated and more importantly, your renal function will be improved. In this way, you can stay away from end stage kidney disease and avoid dialysis.