How to Restore Energy with Stage 4 Kidney Disease
2014-11-15 08:50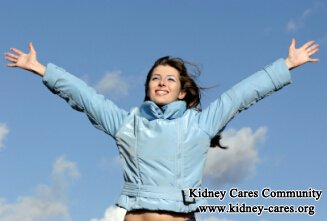 "I have stage 4 kidney disease and I feel tired all the day". Do you have the similar feeling? For people with stage 4 kidney disease, they get tired easily. How to restore energy with stage 4 kidney disease? Go on reading, you will get the answer.
Why CKD stage 4 patients get tired easily?
-It may be associated with anemia.
Anemia is a common complication of kidney disease. It worsens with the development of kidney disease. Your muscles get weak if they can not acquire enough oxygen.
-It may be associated with physical inactivity.
Kidney patients are often required to have a good rest. Sometimes the patients mistake it that they should avoid exercise and they should stay in bed all the day. Physical inactivity may make your muscle shrunk so that you feel tired easily.
-It may be associated with the medicine you take.
You have to take medicines to control the symptoms. Medicine such as steroids have many side effects, one of which may be muscle weak.
-It may be also associated with your diet.
Kidney patients should follow a renal friendly diet, such as low protein, low salt and low fat. But it does not mean you should avoid them. Not enough protein, salt and fat intake may make your body lack nutrients to maintain its normal function so that you feel tired.
How to restore energy with stage 4 kidney disease?
Your fatigue may be caused by a number of factors. Therefore, you should set about solving this problem from different aspects.
-If you have anemia, iron supplement and EPO injection may be helpful.
-Add exercise into routine if your state of illness is stable. Moderate gentle exercise is beneficial, such as walking, jogging, tai chi, etc.
-Seek advice from a dietitian who can help you make a personalized diet plan.
-Look for some natural remedies for your kidney disease, after all CKD treatment is a long course.
Here is a set of treatment, which is consisted of Micro-Chinese Medicine Osmotherapy, Foot Bath, Mai Kang and decoction. They can help you detoxify the blood and set up a good blood environment for kidney self-healing. They can also promote the curative effect of oral medicine so as to help your kidneys regain their function again. And then you will feel energetic.
Early treatment is needed for CKD stage 4 patients to control these symptoms and avoid dialysis. With the help of online doctor, you can get more information about our treatment.