How Does Your Body Change in CKD Stage 4
2014-08-09 09:01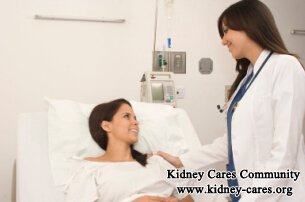 CKD is short for chronic kidney disease. In different stages of CKD, there may be different symptoms. How does your body change in CKD stage 4? In CKD stage 4, some of your symptoms may worsen and some new symptoms or complications appear.
Edema
Edema results from water retention. The damaged kidneys can not filter the excess fluid and waste from the body. In the early stage, edema may just appear around the eyelid, but in stage 4, edema may occur in ankles, legs or the whole body.
Foamy urine
If there is something wrong with glomerular membrane basement, protein which should be retained in the body comes into the urine, and then your urine becomes foamy.
Symptoms associated with anemia
Anemia may occur as long as your kidney function begins to decline. With the development of kidney disease, the kidneys can not secrete enough erythropoetin, as a result, anemia becomes worse and worse. Then you may feel tired easily, shortness of breath, cold limbs, headache, etc.
Bone disease
In CKD stage 4, the damaged kidneys can not activate vitamin D to stimulate body to absorb calcium. Besides, phosphorus may build up in the body. High phosphorus level in the blood can make calcium lose from the bone. All in all, people with CKD stage 4 run a high risk of bone disease.
Besides, you may suffer from high blood pressure, skin itch, nausea, loss of appetite, etc. CKD stage 4 is an advanced stage, which needs more attention and treatment as early as possible, or you may just do dialysis or kidney transplant. With systemic treatment, it is possible for you to reverse CKD stage 4 and live a normal life. For more information about our treatment, please leave a message or send emails to kidneycares@hotmail.com.