How to Ease Fatigue for People with Stage 4 Kidney Disease
2014-07-28 09:01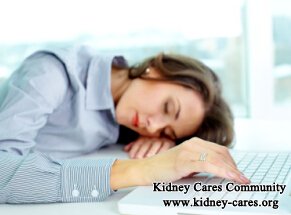 Fatigue is a common complaint of kidney patients. And with the development of kidney disease, the fatigue becomes more and more serious. Stage 4 kidney disease is advanced stage. How to ease fatigue for people with stage 4 kidney disease?
What causes fatigue?
Fatigue is usually associated with anemia. When you are at stage 4 kidney disease, the impaired kidneys can not secrete enough erythropoietin, as a result, the formation of red blood cells is affected. As we all know, red blood cells are responsible for transporting oxygen to all the body parts. When there is not enough oxygen supply, the muscle gets fatigue easily.
Besides, poor sleeping quality, improper diet and physical inactivity can all give rise to fatigue.
How to ease fatigue?
Sometimes it is difficult for the doctor to ensure what causes your fatigue. But the following tips may help you boost energy.
-Anemia is often treated by EPO and iron supplement.
-You should alternate work with rest. A good rest is also good for boosting your energy levels.
-Doing some gentle exercise can also strengthen your muscles and improve your energy. But you should take take the type of exercise, duration, frequency and intensity into consideration. Blind exercise is bad.
-There are strict diet restrictions for kidney patients, but excessive restrictions can cause malnutrition. You should follow a renal-friendly diet scientifically, in case that too much waste builds up in the blood, worsening fatigue.
For people with stage 4 kidney disease, improving kidney function is the solution to all the problems. Micro-Chinese Medicine Osmotherapy can repair the damaged kidneys by its properties of anti-inflammation, anti-coagulation, blood vessel dilation and extracellular matrix degradation. After a period of treatment, you will find that you are full of energy, your hands and feet become warm and urine output increases. All these indicate that your kidney function improves.
Though fatigue is not a very serious symptom, you should attach importance. Only in this way can you stop the progression to ESRD.