Can Stage 4 Chronic Kidney Disease Damage Your Heart
2014-06-30 03:46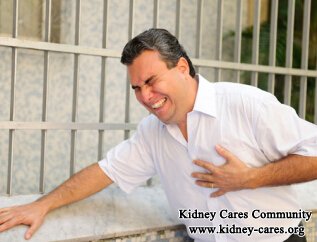 If your chronic kidney disease (CKD) can not be brought under controlled, your kidney function will gradually decline and then many symptoms will appear. The whole CKD is classified into five stages. Can stge 4 chronic kidney disease damage your heart?
Stage 4 CKD can damage your heart.
An important function of kidney is to cleanse toxins from your blood. When your kidney function impairs, a lot of wastes build up, forming stasis. As a result, your blood system is polluted and damaged. When the polluted blood flows to the heart, your heart will be affected as well. Besides, high blood pressure and high cholesterol level are very common among stage 4 CKD patients, which increases your risk of heart disease. According to some statistics, heart disease is the main cause of death for kidney failure patients. Therefore, you should know how to prevent heart problem.
How to prevent heart problem for stage 4 CKD patients?
Controlling the symptoms of high blood pressure and high cholesterol level is helpful for reducing cardiovascular disease morbidity and mortality. Medicines such as ACE inhibitors and ARB are often used to treat high blood pressure. And statins are the most common cholesterol-lowering drugs. Besides, you should pay attention to your diet to control the intake of sodium and fat. In the daily, doing some gentle exercise can also help you lower high blood pressure and cholesterol level, such as walking, jogging, swimming, tai chi and so on.
You should attach importance to the waste in the blood. Here we suggest Blood Pollution Therapy, which can not only help you recover the blood system, but also repair the damaged kidneys so as to improve kidney function.
CKD stage 4 is a key stage. With appropriate treatment, you can live normal life. Without appropriate treatment, you will have to do dialysis. What you want lies in your own mind. If you need any help, please feel free to contact us.