Stage 4 Chronic Kidney Disease And Hand Numbness
2014-03-17 14:33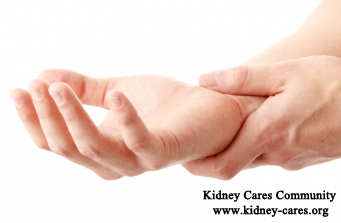 What causes numbness or tingling in my hands? One of the answers to this common question is a condition known as peripheral nephropathy or damage to the peripheral nervous system. What can cause damage to the peripheral neuropathy?
Peripheral neuropathy and numbness or tingling hands
The peripheral nervous system is a complex set of nerves that send sensory information from every part of the body, to the spinal cord and brain. When sensory nerves are damaged, the ability to understand this feeling is also injured, thus causing numbness or tingling hands.
Medical conditions and peripheral neuropathy
Various of medical conditions can cause peripheral neuropathy, including:
1. Diabetes
Long-term high glucose levels will cause damage to nerves. Usually diabetic patients feel numbness or tingling in the feet initially, and then it can spread to the hands and fingers.
2. Kidney disease
In stage 4 chronic kidney disease(CKD), there are high levels of toxic substances in the blood. If left untreated, it can damage the nerves. Besides, stage 4 CKD cannot keep electrolytes balance. Electrolytes in your body include bicarbonate, calcium, chloride, sodium, magnesium, phosphate and potassium. If these electrolytes become unbalanced, symptoms can include numbness or tingling in your hands. CKD 4 patients usually have high potassium, called hyperlipidemia, which can cause tingling in the hands. Kidney disease, vitamin D deficiency and laxative use can cause low calcium level. Like other electrolytes imbalances that lead to numbness in hands, fingers and feet, low calcium levels can also cause muscle spasms, seizure and cardiac arrest. High phosphate is one electrolyte imbalance in stage 4 chronic kidney disease. It can also cause tingling in the hands.
Apart from electrolyte imbalance in stage 4 CKD and diabetes, injury, multiple sclerosis and carpal tunnel can all cause numbness in hands. Therefore, the proper treatment to relieve numbness in the hands depends on the condition which causes tingling sensation. Once the condition is treated, the numbness will often subside. You may take some medications to help deal with numbness in the hands. If there is pressure on nerves or blood vessels, treatment to relieve pressure such as therapy, massage, medications and acupuncture, is needed to reduce numbness in the hands. As for kidney disease causing numb hands, you can takes some Chinese herbs to repair damaged kidney tissues and balance electrolytes.
In a word, as a common symptom, numbness in hands is often complained by stage 4 chronic kidney disease. With the development, this feeling is more severe, so it is necessary for patients in CKD to repair damaged kidney tissues and improve kidney function.