How Long Can Kidney Disease Last at Stage 4
2014-04-03 10:08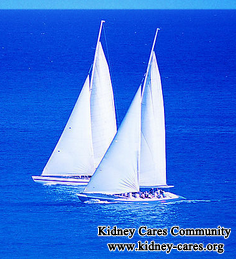 Chronic Kidney Disease progresses over time and may develop to End Stage Renal Disease after decades. Stage 4 is the last but one stage of Chronic Kidney Disease. In this stage, patients are always asked to know about dialysis and kidney transplant, because once illness slips to stage 5, they need to do dialysis to remove toxins in their body, so as to protect other internal organs from being affected. Dialysis is helpful, but with the duration of dialysis, patients' survival rate decreases as well. Therefore, many patients wonder how long kidney disease can last at stage 4.
Stage 4 kidney disease is characterized by GFR 15-29mls/min/1.73m2. GFR is the abbreviation of Glomerular Filtration Rate which reflects the renal filtration function. Low GFR means kidney can not filter blood successfully within the limited time. In that case, large amounts of toxins build up in the body, which can cause further health tissues. This is the reason why kidney failure patients need to receive dialysis to purify blood.
Stage 4 kidney disease is relatively serious. Although dialysis is not needed in this stage, kidney function has been severely impaired. In this case, the residual kidney tissues have to work very hardly to make our body healthy. It is OK for kidney tissues to bear a high burden, but if this condition lasts for a long time, these kidney tissues will be damaged easily due to long-term high workload. Therefore, stage 4 kidney disease progresses to End Stage Renal Disease (ESRD) quickly if no effective treatment is given.
Besides, with stage 4 kidney disease, patients usually need to take various medications to control their illness condition. Many of these drugs are harmful for the immune system, so long-term usage of these medications will make them susceptible to infection and cold which may cause quick deterioration of illness condition. Therefore, for stage 4 kidney disease patients, effective treatment is the key point for them to stay far away from end stage kidney failure.
In many cases of kidney disease, patients are just prescribed with hypotensor, immunosuppressive agents and glucocorticoid to deal with their kidney problem. These drugs help to slow down illness progression, but they can not repair kidney damages. For stage 4 kidney disease patients, to stay far away from stage 5 kidney failure and dialysis, they need to restore kidney function by repairing injured kidney intrinsic cells. Only in this way, can their illness be controlled in stage 4 successfully. Also, in some cases, stage 4 kidney disease can be reversed to stage 3 effectively with persistent treatment. Therefore, stage 4 kidney disease patients should never give up any hope and try to seize every chance to save their kidney.