What Is The Breakfast Plan for CKD Stage 4 Patients
2017-04-22 10:48
Eating a healthy, kidney safe diet is the most recommended treatment for Chronic Kidney Disease (CKD). In this article,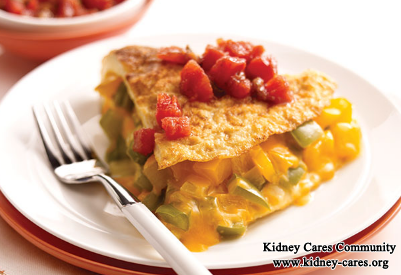 we will give a breakfast plan for CKD stage 4 patients.
Starting your day with a healthy, kidney safe breakfast can set the tone for your entire day. A good breakfast gets your blood sugar leveled and gives you the energy you need to get started.
Here we introduce Omelets to you.
Omelets are delicious and easy options for a kidney patient breakfast. You can use whole eggs if your doctor is okay with it, or eggs white for a healthier version. You can use just onions and peppers, or you can add in your favorite vegetables.
Ingredients
2 eggs
2 tablespoons non-dairy creamer
Diced onions and bell peppers
Fresh ground pepper
Paprika
1 tablespoon shredded cheddar cheese
How to cook it?
You first need to prepare a small non-stick skillet with some non-stick spray. In a bowel, beat eggs, spices and non-dairy creamer until frothy. In the pan, heated to medium, saute your onion and peppers until cooked. Pour eggs mixture over onions and peppers. Tilt the pan to allow egg mixture to move and cook evenly. Allow to set halfway before sprinkling with cheese. Once omelet has set, fold in half and serve with a slice of toast.
This breakfast is very delicious. Starting a healthy meal is good for your condition. Of course, it does not suit for everyone. In order to be safe, you had better consult your doctor before choosing ingredients.
Apart from diet, medical treatment is still the key point in kidney treatment. The effective treatment in our hospital is unique Chinese medicine treatments including Micro-Chinese Medicine Osmotherapy, Medicated Bath, Mai Kang Mixture, Moxibustion Therapy, Medicinal Soup and Steaming Therapy, etc. They can repair kidney damage and improve renal function through dilating blood vessels, improving blood circulation, preventing inflammation and coagulation, degrading extracellular matrix and providing nutrients. When renal function is improved, your life quality will be improved greatly.
The above gives you breakfast plan and medical treatment for renal patients. If you want to learn more information, you can leave a message below or consult our online doctor directly.