Nutrition for Stage 4 CKD Diet
2016-01-09 02:22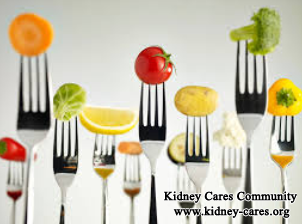 Stage 4 CKD diet is very important for patients to help control disease and prevent deterioration. Restricted diet is a must, but they should also have enough nutrition to prevent malnutrition and weight loss. This time we will introduce nutrition for stage 4 CKD diet for you.
Protein
Protein is very necessary for our body. But for stage 4 CKD, lots of wastes can be produced when protein is decomposed, thus low protein level is needed to protect kidney condition. In general, for patients whose GFR is less than 25 are suggested to have intake of protein which is 0.6 grams per kg of body weight. But according to your conditions, consulting doctors is necessary to decide. High quality protein should be needed, which can supply essential amino acids for body, such as egg white, red meat and milk.
Phosphorus
Low phosphorus is vital for stage 4 CKD. High phosphorus level causes PTH elevation and imbalance of calcium and phosphorus, which can lead to bones problems. It is suggested to have 800-1000 mg phosphorus in daily meals. High phosphorus food should be avoided:
Cheese

Chocolate
Ice cream

Seafood
MilkNuts
SeedsYogurt
Potassium
Just like phosphorus, low potassium is necessary, and stage 4 CKD should have 2000-3000mg in daily diet. The below are high potassium should be avoided:
vocado
Bananas
Cantaloupe
dew melon

Much Dried fruit
LegumesMilk
Nuts and seeds
Oranges and orange juice
Potatoes

Pumpkin and winter squash
Tomato Food
Yogurt
Sodium
Sodium always should be low for kidney disease, even for healthy people. And it is suggested for stage 4 CKD to get 1,000-4,000 mg/day which should be according to your fluid balance.
Calories
If you have weight loss, it is important to get more calories in meals. And you should talk about this with doctors in detail.
Fluids
Fluids intake depends on your conditions like swelling, short breath, high blood pressure, ect.
The above should be followed for patients with stage 4 CKD, which can be helpful for your treatment. End stage kidney disease will come if stage 4 is not controlled well. Take care of yourself in daily life. Any question or more, leave a message or contact online doctor anytime. Reply will be given for you very soon.
Our Treatment Effect
High creatinine level is dangerous to a kidney patient
Move the mouse to enlarge the picture
If you also want to reduce your high creatinine level, please look at this patient's report. When he was just hospitalized in our hospital on Dec 11, 2018,
His creatinine:1028umol/L,
urea: 39.7mmol/L
UA : 513umol/L
After a period of our treatment,
his creatinine:331umol/L, urea:16.1mmol/L
UA :325umol/L on Jan 5, 2019.
His condition was getting better and better. You can also get better.
For a CKD patient, you can choose Chinese medicine treatments to control your condition. your creatinine level can be reduced radically, symptoms can be alleviated and more importantly, your renal function will be improved. In this way, you can stay away from end stage kidney disease and avoid dialysis.