Can I Eat Kale Salad With CKD Stage 4
2015-06-16 09:51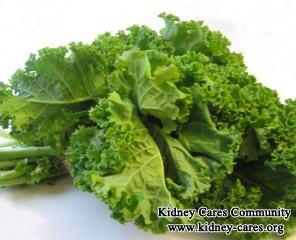 Kale is loaded with all sorts of beneficial compounds and some of which have powerful medicinal properties. Well, can a person with chronic kidney disease (CKD) stage 4 eat kale salad?
First, let's see health benefits of eating kale salad.
1. Help anemia
Anemia is a common complication in CKD stage 4. To alleviate anemia, kale can do some help. Kale has more iron and helps more oxygen get to your blood and greatly helps those who are anemic.
2. Prevent bone loss
Low calcium and high phosphorus often happens in kidney disease. Low calcium easily results in bone problems. Kale has more calcium which aids in preventing bone loss, preventing osteoporosis and maintaining a healthy metabolism.
3. Antioxidant properties
Antioxidants are substances that help counteract oxidative damage by free radicals in the body. Antioxidants have been studied to have powerful cardioprotective, blood pressure lowering, anti-inflammatory, anti-depressant and anti-cancer effects to name a few. This is beneficial for preventing further kidney damage.
4. Lower cholesterol level
Kale contains bile acid sequestrants which can lower cholesterol levels. This should lead to a reduced risk of heart disease over time.
5. Rich source of magnesium
Eating plenty of magnesium may be protective against type 2 diabetes and heart disease.
From the above, we can see kale salad is ok for CKD Stage 4 patients. However, it does not mean all patients can kale salad. For example, although potassium in kale is able to reduce blood pressure and lower risk of heart disease, this does not allow patients with high potassium in blood to eat kale salad. If you have any question, you can leave a message below or send a message to kidneycares@hotmail.com. We will reply you as soon as possible.
Our Treatment Effect
High creatinine level is dangerous to a kidney patient
Move the mouse to enlarge the picture
If you also want to reduce your high creatinine level, please look at this patient's report. When he was just hospitalized in our hospital on Dec 11, 2018,
His creatinine:1028umol/L,
urea: 39.7mmol/L
UA : 513umol/L
After a period of our treatment,
his creatinine:331umol/L, urea:16.1mmol/L
UA :325umol/L on Jan 5, 2019.
His condition was getting better and better. You can also get better.
For a CKD patient, you can choose Chinese medicine treatments to control your condition. your creatinine level can be reduced radically, symptoms can be alleviated and more importantly, your renal function will be improved. In this way, you can stay away from end stage kidney disease and avoid dialysis.