Can A Person With Stage 4 CKD Have Orange Juice
2015-06-14 07:28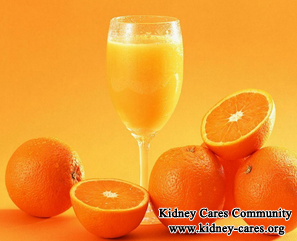 Can a person with stage 4 chronic kidney disease (CKD) have orange juice? Here are just a few of the many good benefits that you get when you drink orange juice including strengthening immune system, improving mood, relieving constipation and building strong bones, etc. Well then, can CKD stage 4 patients drink orange juice?
Fairly large amounts of potassium can be found in orange juice. Thus, if you have kidney disease, you should be a low-potassium diet. Many foods have potassium but some such as avocados, dried fruits, potatoes, oranges, bananas and salt substitute are very high in potassium. From this aspect, we can see orange juice is not allowed for stage 4 CKD patients who have high levels of potassium in blood.
Why do kidney disease patients need to avoid high potassium foods?
A right level of potassium in your body helps all your muscles work smoothly including your heart. Thus, to stay as healthy as you can, you need to keep the right level of potassium in your blood. Keeping potassium at the right level all the time is one of the jobs that healthy kidneys do for your body. When kidneys fail, they begin to lose this ability. As a kidney disease patient, your potassium level should be checked regularly with a blood test. If your levels are high, you are asked to follow a low potassium diet.
If your levels are not high, you can drink orange juice properly and get some health benefits from it including maintaining the blood pressure levels, promoting the immune system, reducing the risks of heart attacks, treating anemia and decreasing bad cholesterol levels.
Whether you can have orange juice depends on your own medical condition. If you want to learn more information about kidney disease diet, you can ask our online doctor or leave a message to kidneycares@hotmail.com.