Hot Peppers And Chronic Kidney Disease Stage 4
2014-12-26 03:04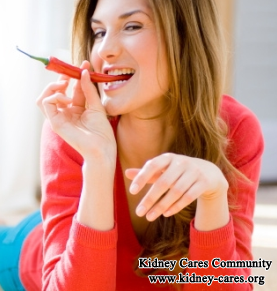 As a patient with chronic kidney disease (CKD) stage 4, your recommended diet may change over time depending on how much kidney function you have. Hot pepper belongs to spicy food and CKD stage 4 patients had better avoid spicy food. However, hot pepper can bring some health benefits if you eat it in correct amount.
The health benefits of consuming peppers in correct amount are many.
1. enhance immune system
kidney is responsible for filtering the blood of impurities, toxins and excess vitamins. When the kidneys are not functioning properly due to kidney disease, more toxins will circulate within the blood. The excess toxins can affect the immune system, and people will be more tired and sluggish. A person with stage 4 CKD will become sick more often because the immune system is weakened. Vitamin A in hot peppers helps the body in many ways. It is important in maintaining a good immune system.
2. prevent heart disease
If toxins cannot be removed out of the body, they may impair the heart. People may die from heart disease. Heart failure is the main cause of death in kidney disease. Vitamin C in hot pepper functions as an antioxidant. It is beneficial in preventing heart disease and stroke.
3. improve blood circulation
Modern medicine has explained that hot pepper helps improve blood circulation so as to provide enough blood, nutrients and oxygen for inherent kidney cells.
The premise of eating hot peppers is that Stage 4 CKD patients have got allowed from professional doctors. Or you can consult our online doctor directly.