Can I Use Olive Oil with CKD Stage 4
2014-11-24 03:54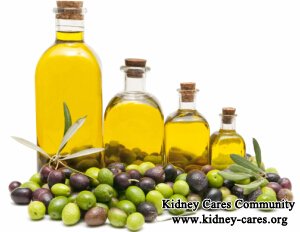 In the long treatment process of CKD, diet restriction is as important as medical treatment. Can I use olive oil with CKD stage 4? Many CKD patients have the similar doubt. If you have any question about CKD, please feel free to contact online doctor.
Olive oil has many health benefits for people.
-Reduce the risk of cardiovascular disease
Nowadays more and more people develop cardiovascular disease. When you have kidney disease, its risk will become much higher, because kidney patients often have high blood pressure and high cholesterol level. Regular olive oil intake helps you lower blood pressure, reduce blood cholesterol level and prevent thrombosis so as to protect your heart.
-Control blood sugar level
Diabetes is a leading cause of CKD. Olive oil consumption helps improve blood sugar control and enhances insulin sensitivity so as to lower the damage to the kidneys.
-Prevent bone disease
Because the damaged kidneys can not activate vitamin D to absorb calcium, so kidney patients run a high risk of bone disease. Olive oil seems to improve bone mineralization and calcification. It helps calcium absorption so as to help you prevent the onset of bone disease.
-Other health benefits
Olive oil also aids in metabolic syndrome, skin cancer, weight control, depression, etc. Space limited, so we do not introduce them in detail.
Can I use olive oil with CKD stage 4?
Generally speaking, CKD patients are often required to limit the intake of fat. Because it may raise your cholesterol level so as to increase your risk of heart disease. But olive oil is rich in monounsaturated fatty acids, which has so many health benefits, so you can add it into your diet. However, you still need to pay attention to its consumption. Too much is as bad as too little.