What Foods Should Stage 4 CKD Patients Not Eat
2014-08-31 01:59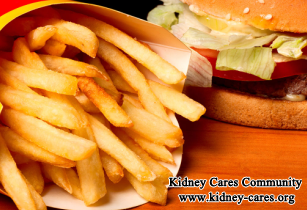 Except for medical treatment, a healthy diet is also important for some people with stage 4 chronic kidney disease (CKD). CKD Stage 4 patients should avoid some foods so as not to worsen their kidney condition. Here we will present you what foods should stage 4 CKD patients should not eat.
1. Potassium restriction for stage 4 CKD patients
When the urine begins decreasing and kidney functions is reduced to 20%-30%, potassium restriction for stage 4 CKD is necessary. High potassium foods like bananas, prune juice oranges, orange juice, milk, tomato juice, prunes, nuts, chocolate, dried peas and beans.
2. Phosphorus restriction for stage 4 CKD
Healthy kidneys balance the amount of phosphorus in our body. Phosphorus decreases the ability to absorb calcium from the diet to the body. However, when the kidneys are not working well, it will fail to eliminate this in the urine, the phosphorus level will increase in the blood. The high phosphorus level will stop calcium to be absorbed. High phosphorus foods need to be avoided by a person with kidney problem, otherwise, it can lead to bone disease with pain in the back and joints. Foods containing high phosphorus are milk, beans, black eye peas, nuts, chocolate, yogurt, cheese of any kind, liver, desserts prepared milk.
3. Take care of protein intake
Protein intake may be limited to 0.6 grams per kilogram of the body weight per day. Also vegetable protein like beans, lentils and other green vegetables is recommended so as not to put extra effort in kidneys.
4. Sodium restriction for kidney patients
Foods that contain high sodium can increase blood pressure and blood pressure as we know is one of the major causes of kidney disease and hence kidney failure in long run. It has been proven that strict blood pressure control is crucial. A person with kidney problem should be very careful about his sodium intake and should be taking care to maintain his blood pressure. Blood pressure medicine is necessary, and renal diet is also important for controlling blood pressure. High sodium foods include salt, all types of frozen meats, corned beef, sausage, pizza,Chinese food, fast foods, cheese, pickles, soy sauce, potato chips and all types of canned soups.
The above diet cannot obviously prove to be cure but it can increase your life quality and feeling of your well-being. Even if you do not have a kidney disease yet, you must be aware of kidney healthy tips to avoid chronic kidney failure.